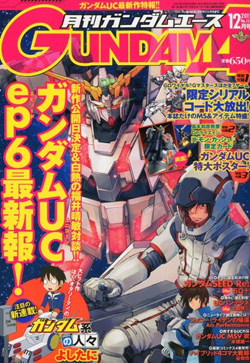 December 2012 Gundam Ace on sale: Full Info Contents
■ Premiere date and a Fukui interview!
The newest info on Mobile Suit Gundam UC episode 6: "Sora to Hoshi to (working title)"
■ New series! Yoshitani's "Gundam-kei no Hitobito"
"Boku, Otaryman"'s Yoshitani takes on the daily life of Gundam fans!
■ Bonus 1
Serial codes for Gundam Royale, Gundam Masters, and five other games!
Get Gundam Ace-exclusive mobile suits and items!
■ Bonus 2
Gundam Try-Age "Domon Kasshu" card illustrated by Kazuhiko Shimamoto himself!
■ Bonus 3
A huge Gundam UC poster!
■ The decisive battle bears down on Kira! "Mobile Suit Gundam SEED Re:" / Ju Ishiguti
■ An assassin from beneath the waves! "Mobile Suit Gundam UC Bandes Dessinée" / Kozo Ohmori
Price: 650 yen