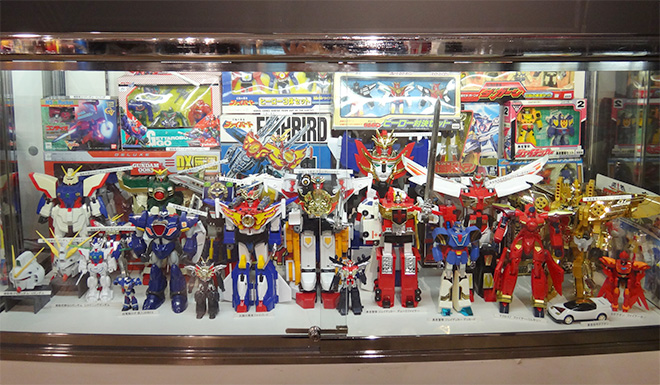 Anime and toys are Japan's great culture! WAKAFUJI Collection!
Anime Fan opens Gallery to show his Amazing Collection!
Full Info, Official LINK
TOON, Ehime Prefecture–A retired postal worker with a passion for anime and "tokusatsu" (special effects) live-action movies and TV shows has opened a gallery to display treasures from his vast collection of figurines, records and other items.
Masao Wakafuji amassed more than 40,000 bits and pieces over nearly 40 years, of which 3,000 can now be seen by the public.
"Anime and toys are Japan's great culture," says Wakafuji, who is 55 and lives in Matsuyama. "I want as many people as possible to know about them."
When Wakafuji was in elementary school, he would rush home after classes were over and sit glued to the TV. He was fascinated by the superheroes standing up against evil, plunging him into a fantasy world where hope and courage carried the day.
In his free time, he sketched characters from the "Gigantor" and "Astro Boy" robot anime series. Wakafuji began collecting records in his second year of senior high school.
After graduating, Wakafuji became a postal worker, and he also began collecting figurines.
Although he had aspired to become a cartoonist, he gave up on that idea because of the pressures of work.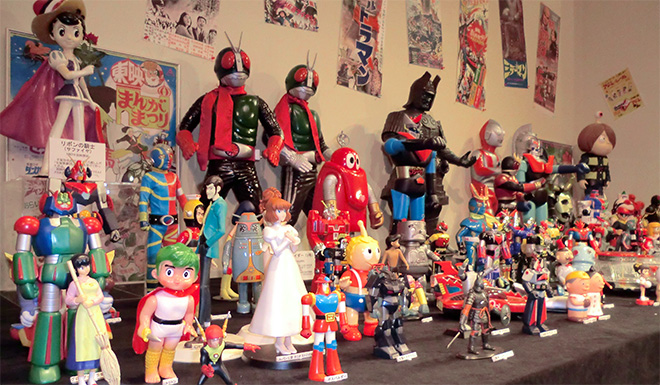 Wakafuji became an avid collector. In search of rare items, he walked from toyshop to toyshop across the Shikoku region on holidays.
According to Wakafuji, his collection encompasses almost all of the records of theme songs used for anime and tokusatsu movies and TV shows released or broadcast from the mid-1950s to the late 1980s.
After retiring from the postal service seven years ago, Wakafuji became the manager of a bar in Matsuyama where some of the figurines in his collection are on display.
But many of his goodies remained hidden treasures, locked away in a quiet warehouse. He decided to open a gallery to share the rest of his collection with fellow anime and tokusatsu aficionados.
Wakafuji's toy museum is located inside the L'espace City commercial complex in Toon.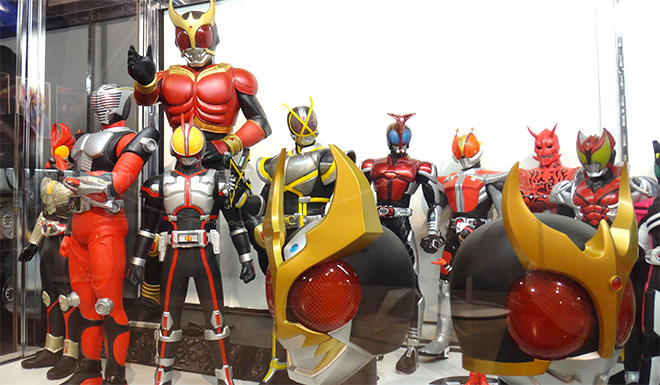 The 3,000 or so items on display in a floor space of about 370 square meters cover the 1950s "Gekko Kamen" live-action superhero TV series to the currently popular anime and video game series "Yokai Watch." Figurines of superheroes and anime characters are lined up in groups by various generations to show the changes in the use of materials for the toys over the years.
The collection also boasts large figurines, such as a 180-centimeter-tall statue of the Mazinger Z robot, in addition to a tin model of Ultraman, which was appraised at 1.5 million yen ($12,050) by antiques experts.
Wakafuji is also considering hosting live stage shows featuring superheroes, concerts of anime theme song singers and other offerings at a theater in the commercial complex.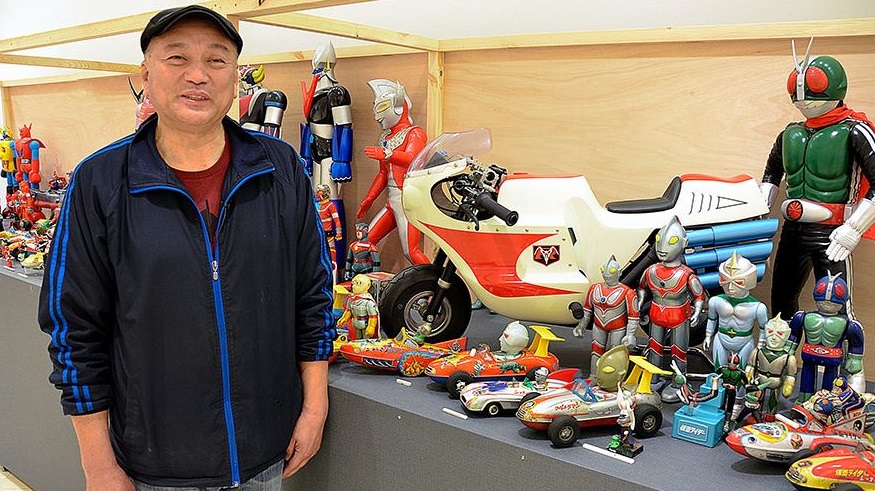 "I'd be happy if it serves as a forum that fans can enjoy with their children and grandchildren or a venue where people can share memories with peers of their generation," Wakafuji says.
Admission is 700 yen for junior high school students or older, 300 yen for children above the age of 4 through elementary school students.
Visit the official website of his company, Wakafuji Collection Inc.,
By AMI NOMURA/ Staff Writer
ajw.asahi.com