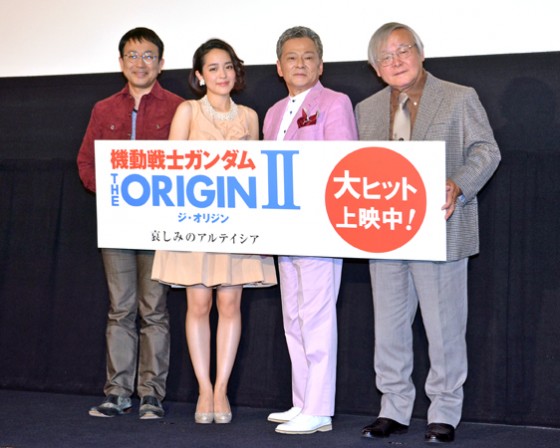 3rd Gundam the Origin Volume's Title, Spring 2016 Release Revealed:
Full Info [English and Japanese]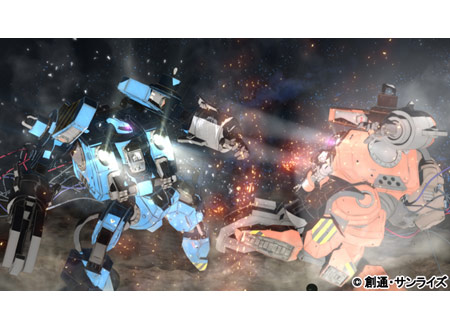 The staff of the Mobile Suit Gundam: The Origin anime project announced on Saturday at a premiere stage greeting event in Tokyo for the project's second episode that the third episode, titled Mobile Suit Gundam: The Origin III Akatsuki no Hōki (Dawn's Revolt), will open in Japan in spring 2016.
Chief director Yoshikazu Yasuhiko said at the event about the third episode, "This work is now entering it's climax. [Tohru Furuya], who plays Amuro Ray, once said this on the radio: I think the theme of Gundam is: Why do humans engage in war? Yasuhiko added that he wants to again explore this theme starting from the anime's third episode.
The second episode, "Artesia's Sorrow," opened in Japan on Saturday. The episode will run in 15 theaters in Japan for two weeks. The second episode's story moves three years ahead to U.C. 0071. The story follows the tearful separation of the siblings Casval and Artesia (before they became known as Char and Sayla). The episode also features more of the development of the mobile suits, particularly on the Zeon side.
via Animenewsnetwork.com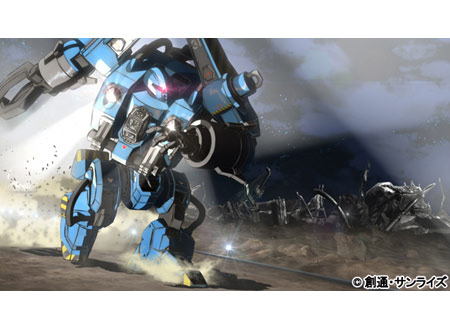 ORIGINAL:
「機動戦士ガンダム THE ORIGIN」アニメスピンオフ第3弾、2016年春公開!
31日、映画『機動戦士ガンダム THE ORIGIN II 哀しみのアルテイシア』初日舞台あいさつが新宿ピカデリーで行われ、エドワウ・マス役の池田秀一、セイラ・マス役の潘めぐみ、シャア・アズナブル役の関俊彦、そして安彦良和総監督が登壇した。
本作は、「機動戦士ガンダム」の人気キャラクターであるシャア・アズナブルとセイラ・マス兄妹の過去を描いた、安彦良和の人気コミック「機動戦士ガンダム THE ORIGIN」のアニメ化スピンオフシリーズ第2作。前作『機動戦士ガンダム THE ORIGIN I 青い瞳のキャスバル』は全国13館での公開ながら、初週で動員5万人を集め、非常に高いスクリーンアベレージを誇ったことで話題になっていた。
この日も安彦総監督が「年齢層を見ても筋金入りのガンダムファンの方たちですね」というように会場は超満員。そんな中、潘は「香盤表を見て役名がセイラ・マスと書いてあったので緊張が止まりませんでした」と役柄の偉大さを実感したことを語ると「役に合わせていつか髪の毛を切る機会があれば……と思っていたのですが、アルテイシアからセイラに変わるときに、長年付き合っていた髪と別れを告げました。この作品はけっこう頑張りました」と自慢のロングヘアを切った経緯を明かした。
エドワウ・マスというシャア・アズナブルの若かりし頃を演じた池田も「原作を読んで、どうしてもエドワウからシャアに流れていく気持ちを演じたいと思い、わがままを言い挑戦させていただきました。頑張りました」と気合十分で臨んだことをアピールすると、安彦総監督も「みんなの注目は池田さんのお声だと思います。実は第一声を聞くまでは不安でしたが、一言聞いたら大丈夫でした」と出来に太鼓判を押した。
2016年春には『機動戦士ガンダムTHE ORIGIN III 暁の蜂起』が公開される。安彦総監督は「いま作画が佳境に入っています。アムロ・レイを演じている古谷(徹)さんがラジオで『ガンダムのテーマは「何で人間は戦争をしてしまうのだろう」ということ』だと話していました。まさにその通りで、第3章からはあらためて、そのテーマを踏まえながら物語に入っていきたいです」と語っていた。(磯部正和)
映画『機動戦士ガンダム THE ORIGIN II 哀しみのアルテイシア』は2週間限定公開中
www.cinematoday.jp