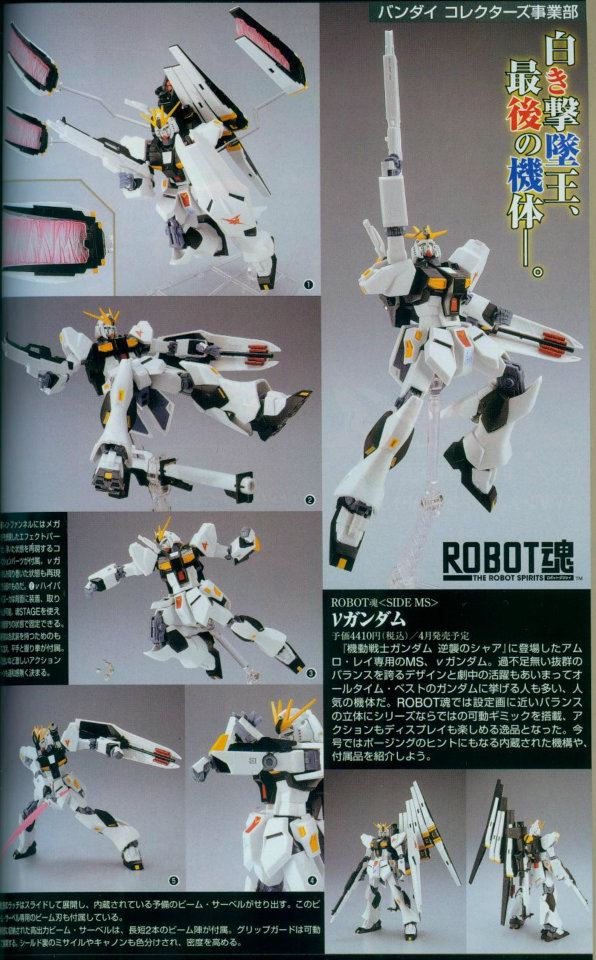 Robot Damashii (Side MS) Nu Gundam
ROBOT魂 (SIDE MS) νガンダム
Height: 140mm
Release date: April 2012 – Price: 4,410 Yen
Manufacturer: Bandai
The most requested mobile suit at the second Tamashii Features event survey will join the Robot Spirits line-up with a comprehensive array of accessories and gimmicks. Featuring extensive articulations and exquisite proportions the ROBOT SPIRITS Nu Gundam from Mobile Suit Gundam: It includes clear support arms to portray funnel mode. Deluxe action figure set includes three sets of left/right interchangeable hand parts, six fin funnels, two types of beam sabers, hyper bazooka, beam rifle, shield, three funnel effect parts as well as funnel connection parts.
Order HERE
No.12 New Big Size Images, Closeups
Robot Damashii (Side MS) GAT-X103 Buster Gundam
ROBOT魂 SIDE MS バスターガンダム
Release date: 31 March 2012 – Price: 3,990 Yen
Made of PVC, ABS – Height: 125mm
Manufacturer: Bandai
No.14 Big Size Images HERE
Timed with the March 2012 release of the Mobile Suit Gundam SEED Blu-ray BOX release will be the Robot Spirits debut of Buster Gundam! This high-precision robot action figure will feature shoulder hatches that can open and close and hard points on shoulder armor for arrachment of weapon accessories. With figure design overseen by animator Satoshi Shigeta, proportion and articulation will be on the same level as the highly praised Robot Spirits Aile Strike Gundam. In addition to powerful rifle accessory Robot Spirits Buster Gundam high-end robot action figure set will also include a full-array of interchangeable hand parts and side armor.
Order HERE