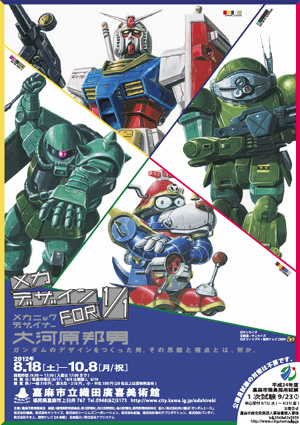 The "Mecha Design For 1/1: Mechanican Designer Kunio Ogawara" exhibit, spanning his entire career, will be on display at Kama, Fukuoka's Hiroki Oda Museum of Art from August 18th through October 8th.
Adult admission is ¥310, with high school and college students admitted for ¥210 and children admitted for only ¥100.
Kunio Ogawara, the first man credited as "mechanical designer" in Japanese animation, has established his fame through a broad range of works beginning with "Mobile Suit Gundam".
This exhibition, his first in Kyushu, features design materials and genga from Mobile Suit Gundam, Science Ninja Team Gatchaman, the Time Bokan series, and other major works. Also on display is a lineup of models and toys showing the evolution of his works.
Experience the charm of Kunio Ogawara's mechanical design, still continually fresh after 40 years in the industry.
More information is available on the Hiroki Oda Museum of Art's website.
Mecha Design For 1/1: Mechanical Designer Kunio Ogawara
The man who designed Gundam. His inspiration, his vision.
at Hiroki Oda Museum of Art (Fukuoka-ken Kama-shi Kamiusui 767)
August 28 – October 8th
open 9:30 – 5:30 (enter by 5:00)
closed Mondays (except 9/17 and 10/8) and 9/18
Admission: Adult ¥310, student ¥210, child ¥100.