G-Work of The Day 1/144 Diorama: "The Last Champion of Zeon"
Photoreview No.10 Big Size Images, Info
From the Modeler:
This Kshatriya was modified heavily with mesh, chain and wire to give a steam punk meets medieval look. It came 2nd in the Australian GBWC 2012.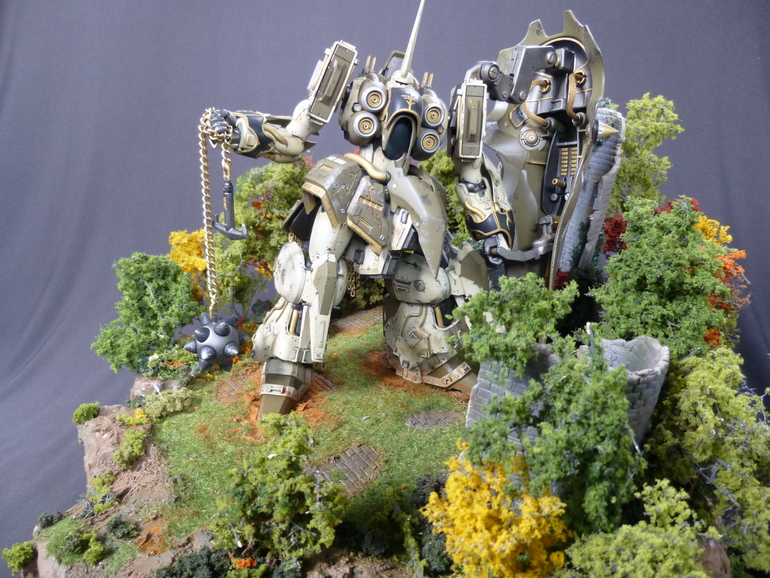 Lots of chains and mesh were added for details
The added weapon was a Gundam Hammer left over from the MG Shin Musha kit.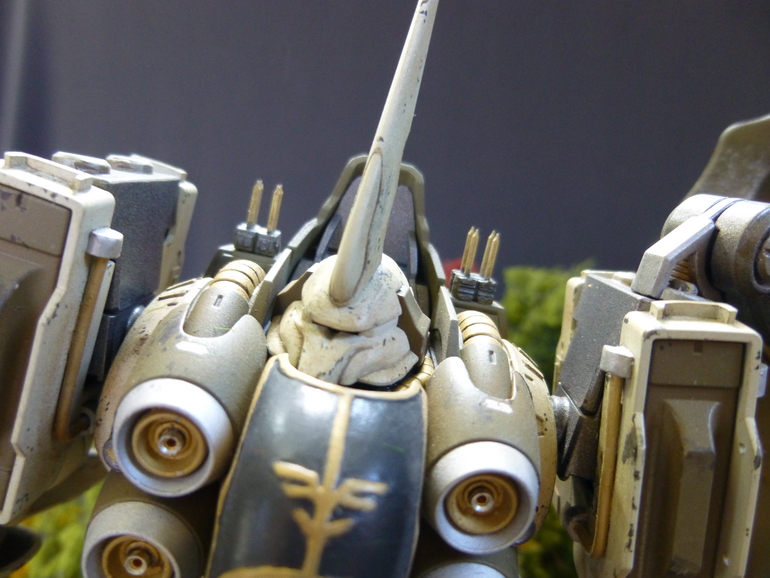 The raised insigina on the chest was difficult to work with. Reverse washing was hard to do on that piece for some reason so it was hand painted.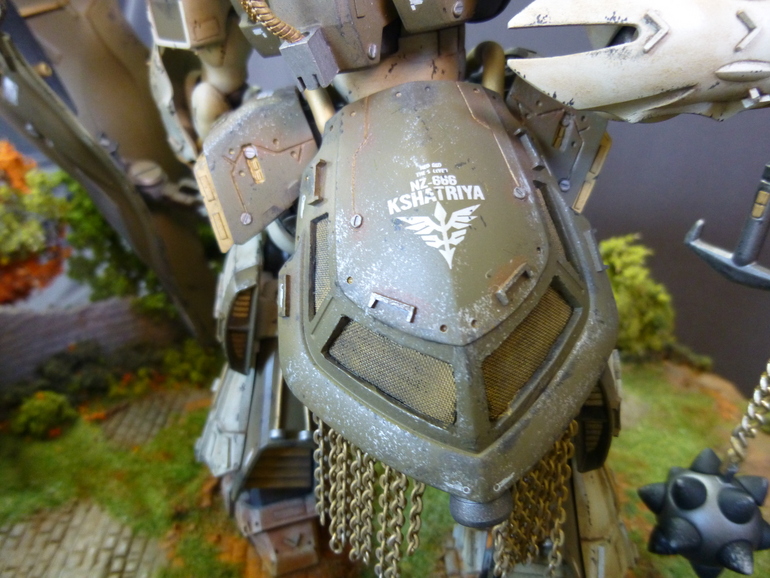 Lots of changes were done to the rear skirt including new panel lines and mesh.
Painting was done with the following colours :
Tamiya NATO Black (acrylic)
Tamiya Deck Tan (acrylic)
Mr Hobby Olive Drab (acrylic)
Mr Hobby Red Steel (acrylic)
Mr Metal Brass (lacquer)
Mr Metal Chrome Silver (lacquer)
Mr Metal Dark Iron (lacquer)
Tamiya Black Gloss (enamel)
My Hobby Flat Clear (acrylic)
Decals added were from the Kshatriya set from Samuel Decals and the RX-0 Unicorn set from Bandai. As per normal, some of Samuels were a big weak (especially the big one on the shield) and had to be strengthened a little with a thin coating of clear.
Weathering was done using chipping with both a brush and sponge using Dark Iron first and then Chrome Silver over the Olive Drab areas. Panel lines were done with thinned Brass also. Next, I dirtied the entire kit using Vietnam Earth, Light Rust and Smoke pigments from MIG.
For the base I gathered my inspiration from Wild Rivers G-World book that contained several island like bases for his Gunpla builds.
Work by

http://www.ghostofzeon.com