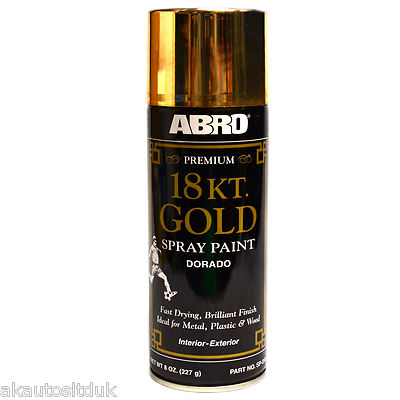 ABRO Premium 18KT. Gold Spray Paint & MG Deathscythe EW example painted part, Large Image.
The Finest Chrome Aluminum Spray Enamel Fast Drying High Brilliance.
High quality and fast drying for interior and exterior use.For wood, metal, plastic parts and furniture
THE PERFECT FINISH FAST
WE HAVE TRIED THIS CHROME PAINT OURSELVES, AND THE FINISHING RESULT IS CHROME NOT SILVER
THIS CHROME PAINT IS A 85% TO 90% GOOD CHROME FINISH. IF YOUR LOOKING FOR A 100% CHROME FINISH PLEASE GET YOUR ITEMS CHROME PLATED.
THIS NOT SUITABLE FOR HIGH TEMPERATURE USE
Found HERE
From the Modeler:
The only part i painted is Gold ( ABRO 18 KT Gold )
stuartlee2012 on pla-zone.com