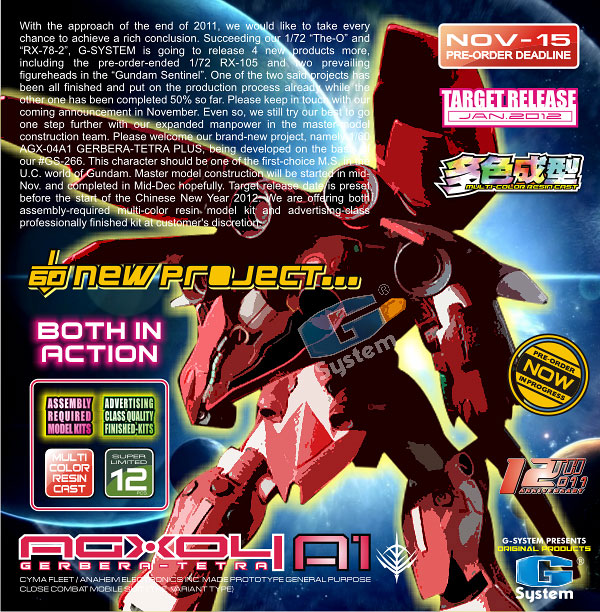 G-News: 1/60 AGX-04A1 GERBERA-TETRA PLUS !!!
From the Manufacturer:
With the approach of the end of 2011,we would like to take every chance to achieve a rich conclusion. Succeeding our1/72 "The-O" and "RX-78-2", G-SYSTEM is going to release 4 new products more,including the pre-order-ended 1/72 RX-105 and two prevailing figureheads in the"Gundam Sentinel". One of the two said projects has been all finished and puton the production process already while the other one has been completed 50% sofar. Please keep in touch with our coming announcement in November.
Even so, westill try our best to go one step further with our expanded manpower in themaster-model construction team. Please welcome our brand-new project, namely1/60 AGX-04A1 GERBERA-TETRA PLUS, being developed on the basis of our #GS-266.This character should be one of the first-choice M.S. in the U.C. world ofGundam. Master model construction will be started in mid-Nov. and completed inMid-Dec hopefully.
Target release date is preset before the start of the Chinese New Year 2012. We are offering both assembly-required multi-color resinmodel kit and advertising-class professionally finished kit at customer'sdiscretion.
Pre-order deadline : November 15, 2011 – Price: US$464
Expected date of master-model completion : Mid-Dec, 2011
Target date of shipment : Before the start of the Chinese New Year 2012
Souvenier of pre-order : Extra water-side decal and a photo CD for the product