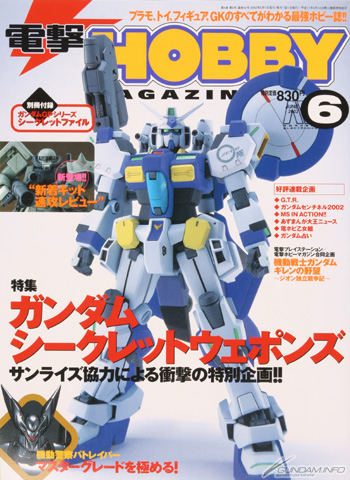 [#21] RX-78GP00-1 GP-00 (1/100 scratch)
Issue: 6/2002 / Builder: Ryuji Sorayama
Dengeki Hobby will mark its 200ith issue with the March issue on January 25th, and to celebrate the three best builds from its past will be remade!
Dengeki Hobby Web and Gundam.info will carry a series of articles counting down the rankings in the runup to the issue's release.
Over 2,000 votes were cast in print and Dengeki Hobby Web surveys. Who have readers chosen?
Next up after #40–#31, it's numbers 30 through 21!
Take a look!
■ #21–#30
#21     RX-78GP00-1 GP-00 (1/100 scratch)
Ryuji Sorayama / June 2002
#22     Zephyr Aziel (1/144 included in Jan., Feb. issues)
NAOKI + Toshio Iwata / Jan. 2009
#23     PG Strike Freedom Gundam (1/60 Bandai)
Naofumi Matsumoto / Feb. 2011
#24     RX-78GP03 GP-03 Dendrobium (1/144 Bandai)
Hiroshi Imizu + Mitsuaki Misaki / May 2002
#25     METEOR-01 METEOR + ZGMG-X10A Freedom Gundam (1/144 Bandai)
Toshio Iwata / June 2004
#26     RX-78GP03 GP-03 Test Full Armor (modified 1/100 Bandai)
NAOKI + Nobusuke Sakurai + M + Ryuji Sorayama / Aug. 2004
#27     MSZ-006A1 Zeta Plus Test Colors (1/100 Bandai)
Toshio Iwata / Dec. 2001
#28     RX-121-1+FF-X29A Gundam TR-1 etc. (1/100 Bandai)
Toshio Iwata / Jan. 2006
#29     Gundam AGE-2 Artemis (1/144 Bandai + mag bonus)
VAN / Sep. 2012
#30     RX-121-1+FF-X29A Gundam TR-1 etc. (1/144 Bandai)
Mitsuaki Misaki / Nov. 2005