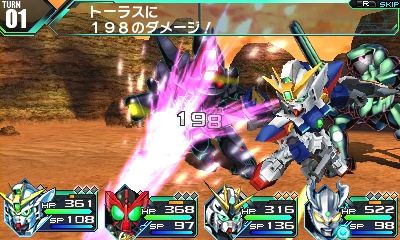 Banpresto's Lost Heroes:
Ultraman, Kamen Rider, Gundam in "dream" collaboration on 3DS/PSP in September. Video, Info, Screenshots
Namco Bandai Games began streaming the first full promotional video for Banpresto's Lost Heroes game on Thursday. The game will feature the "dream" collaboration of Ultraman, Kamen Rider, and Gundam when it ships for the Nintendo 3DS and PSP systems on September 6. It will be the first dungeon role-playing game in Banpresto's Compatible Hero crossover franchise.

The five-minute video highlights the turn-based combat system and the 15 different characters from which the player can create a four-character party. The first release of the 3DS version will include a download code for the 3DS port of the Famicom (Nintendo Entertainment System) game SD Hero Sōkessen. The first release of the PSP version will include a product code for five exclusive custom themes and bonus in-game data.
Info: Animenewsnetwork, jin115 & BandaiNamcoGames (You Tube Video)