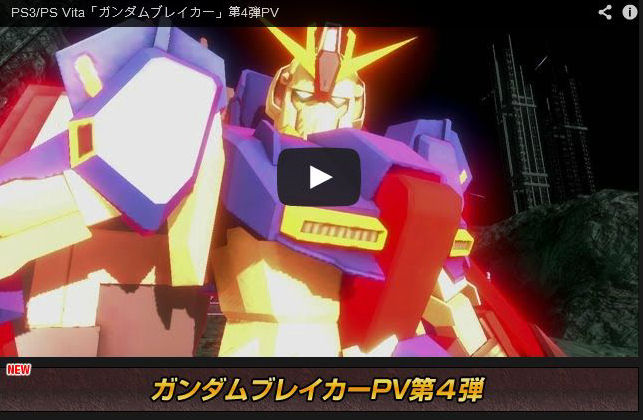 PS3/PS Vita: Gundam Breaker.
New Preview Video 6:33 min long!
EDITED w/Full English Info
Just as in the television commercial that debuted earlier this week, Nobuo Tobita narrates the video as Mobile Suit Zeta Gundam main lead and Gundam pilot Kamille Bidan along with Yoshiko Sakakibara as Haman Karn. The video outlines how players can collect parts, customize their own mecha, and engage in joint battles.
In the game, players battle in robots in multiple scales on "battlefields" such as a roulette table, Diver City (the home of the life-size Gundam statue), a forest, and a tundra. The objective is to destroy the head, arms, and legs of the opponent's unit. The game will also include mission assignments to destroy enemies, and the player in turn will receive new customizable parts for completing the missions. A story mode is also available, and takes place at the Gundam Great Front. The player can challenge themselves in story mode by attempting to get the highest-ranking title.
The game's announced mecha roster includes RX-78-2 Gundam from Mobile Suit Gundam, ZGMF-X20A Strike Freedom Gundam from Gundam Seed Destiny, GN-0000 Gundam OO from Gundam 00, MS-06 Zaku II from Mobile Suit Gundam, MSN-04 Sazabi from Mobile Suit Gundam: Char's Counterattack, MSN-06S Sinanju from Mobile Suit Gundam Unicorn, God Gundam from Mobile Fighter G Gundam, Gundam Astray Red Frame from Gundam Seed Astray, Susanowo from Gundam 00, and Unicorn Gundam (Destroy Mode) from Mobile Suit Gundam UC.
A Gundam Breaker demo is currently available on the Japanese PlayStation Store.
The game is scheduled to ship for the PlayStation 3 on June 27 for the price of 7,980 (about US$80). First copies of the game will come bundled with a product code for HG Freedom Gundam and HG Hyakushiki mecha parts to use within the game and 3 units of Battle Energy for the PlayStation 3 Mobile Suit Gundam Battle Operation online video game. Namco Bandai Games will also release the game for the PlayStation Vita later this year. (via Animenewsnetwork)
PS3/PS Vita「ガンダムブレイカー」第4弾PV