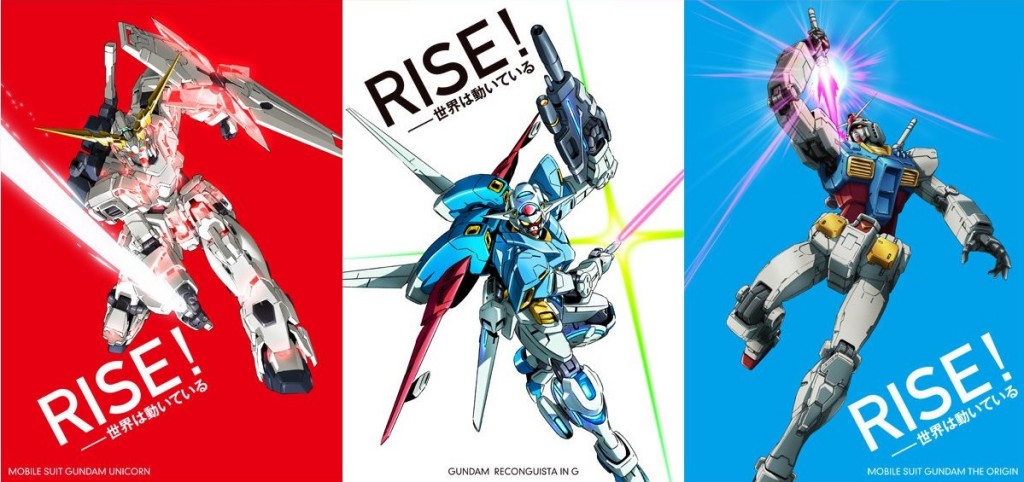 35th Anniversary of Gundam:
UC #7 on May 17, G no Reconguista this fall, The Origin next spring!
Full English Info, Images
Bandai Namco Holdings, Sotsu, and Sunrise confirmed the three main projects that will celebrate the 35th anniversary of Gundam during a Thursday event. Episode 7 of Mobile Suit Gundam UC will play in theaters on May 17. Aimer will perform theme song "StarRingChild."
Gundam: G no Reconguista (Gundam: Reconguista in G), the franchise creator Yoshiyuki Tomino's major Gundam project since the 2005-2006 Mobile Suit Zeta Gundam film trilogy, will debut this fall.
It is set in "Reguild Century," the era set after the Universal Century, and it will follow the adventures of a pilot trainee named Beruri Zenamu in Capital Guard, an organization protecting a space elevator. The character designer is Kenichi Yoshida, and the mecha designer are Akira Yasuda, Ippei Gyōbu, and Kimitoshi Yamane. Yuugo Kanno is scoring the music.
Kidō Senshi Gundam: The Origin I: Aoi Hitomi no Casval (Mobile Suit Gundam: The Origin Blue-Eyed Casval) will tell the story of Casval Rem Deikun and Artesia Som Deikun (Char and Sayla, before Char became known as the Red Comet) before the One-Year War in UC.0068. The four-episode adaptation of Yoshikazu Yasuhiko's manga will debut in theaters in next spring.
The Art of Gundam exhibition will present about 1,000 pieces of original production materials and other art from July to September in Osaka and Tokyo. Sunrise will show a new video in an immersive-type theater during the exhibition.
Yasutaka Nakata (Perfume, Kyary Pamyu Pamyu) is producing the anniversary's theme song "G35."
"Real G Next Project," is the next step after the life-size Gundam statue. The project aims to make a new "real Gundam" by 2019.