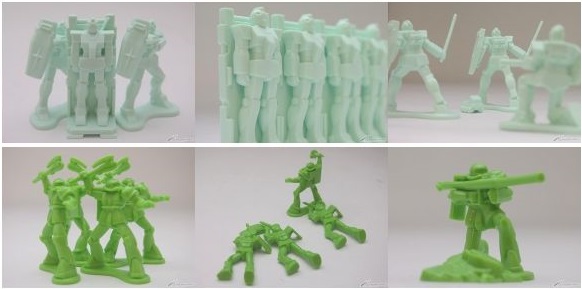 The One Year War plays out on your desk with Plex's "Kurabest Show"!
Official Images, Info, LINK

The Kurabest Show line of mini-figures is available from Plex in two separate varieties each of Federation and Zeon figures!
Each pack includes a total of nine pieces: GMs or Zakus in two different poses, and a bonus landscape piece like a pillbox or sandbags. Some packs also include rare Gundam or Char's Zaku figures!
Each of these made-in-Japan figures is tiny, but incredibly detailed. Reenact the One Year War on your desktop, with battles growing in grandeur the more you collect!
Each pack is only ¥599.

FEDERATION PACK 01 GM (Beam Spray Gun) ×4 / GM (Docked) ×4 / Pillbox
FEDERATION PACK 02 GM (Bazooka) ×4 / GM (Beam Saber) ×4 / Buggy
ZEON PACK 01 Zaku (Zaku Machine Gun) ×4 / Zaku (Zaku Bazooka) ×4 / Rubble

ZEON PACK 02 Zaku (Heat Hawk) ×4 / Zaku (Zaku Machine Gun) ×4 / Sandbags