GARNiDELiA performs the Gundam Reconguista in G opening theme! Single available October 29th! Premieres in the Animeism block October 2nd! Full Info, LINK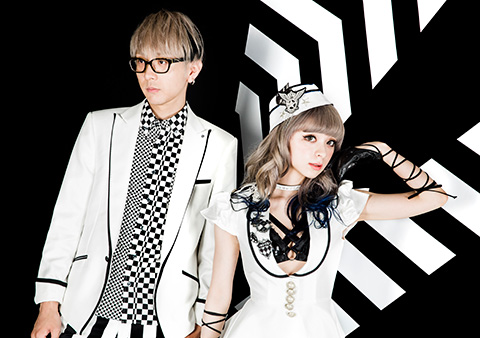 G-Reco's opening theme will be a new track by GARNiDELiA.
GARNiDELiA, a collaboration between digital/rock fusion composer toku and powerful vocalist Maria, have quickly attracted an audience for their unique sound.
Having made their major label debut with the Kill la Kill opening theme "ambiguous" and quickly followed it up with the smash-hit The Irregular at Magic High School theme "grilletto", GARNiDELiA is riding high and can be expected to turn in a similarly-impressive performance for G-Reco.
Their third single will be available in standard, first press, and limited edition formations from DefSTAR Records on October 29th. The limited-edition release, with G-Reco album art, also includes an exclusive sticker.
[Product details]
GARNiDELiA 3rd single (title TBD)
On sale October 29th, 2014
■ Standard edition (CD only)
DFCL-2088 / ¥1,200 (tax not included)
■ First press (CD + DVD)
DFCL-2089–2090 / ¥1,500 (tax not included)
■ Limited edition (CD + DVD)
DFCL-2086–2087 / ¥1,500 (tax not included)
* Exclusive Gundam Reconguista in G album art
* Exclusive Gundam Reconguista in G sticker
* On sale through March 31st, 2015
[GARNiDELiA Profile]
A duo composed of vocalist Maria and composer toku.
toku is known for arranging and producing artists like LiSA, Angela Aki, and Antic Cafe.
Maria, already an established anime theme soloist, has also provided concert vocals for Jin and other artists. Their chance meeting in 2010 eventually led to the formation of GARNiDELiA.
Maria's vocal talents had already earned her over two million plays on video sharing sites.
Combined with her talent for dance, her first multimedia work "Girls" broke another million plays alone.
Meanwhile, toku's hit "SPiCa" racked up a million plays, skyrocketing to ten million after its commercial release. Before forming GARNiDELiA, the duo also collaborated on the anime theme "COLOR".
GARNiDELiA exploded in popularity across Japan and worldwide with their major label debut "ambiguous", theme to the hit anime Kill la Kill, and soon enjoyed top rankings on iTunes Music Store and other digital music sites.
Soon after was "daze", the theme to Mekakucity Actors, performed under the name "Jin feat. Maria from GARNiDELiA".
In July came "grilletto" for The Irregular at Magic High School.
And now, with barely a pause to breathe, GARNiDELiA has been chosen to provide the opening theme for Gundam Reconguista in G in October!
[The name "GARNiDELiA"]
A portmanteau of the phrase "Le Palais Garnier de Maria"—"Where Maria Sings"—and the name of the asteroid Cordelia discovered in the year of toku's birth.