Super Fake Zaku Statue in Turkey. Gökçek: "Respect the robot" WOOOOOOT??????
Full Info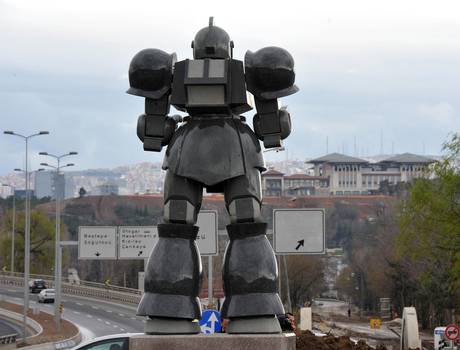 A Turkish mayor is being sued for using public money to build a 6-metre statue of a Pseudo-Zaku in the capital of Ankara.
Turkey's Chamber of Architects and Engineers (TMMOB) filed a criminal complaint against Mayor Melih Gökçek over his controversial decision to erect a giant statue of a robot, local media reported.
At first it was believed that the statue was an April Fool's joke, but bemusement quickly turned to anger when it was revealed how it had been paid for.
The horrible fake statue was erected at a crossroads to promote the city's new themepark, which has been described as a "prestige project" by the mayor.
A total of 20 robots will be included at the new theme park when completed, according to broadcaster CNNTürk. OMG a fake-army of Gundam series statues?
I don't wanna think on it……
The robot at the centre of the row has been described by TMMOB representatives as a "monstrosity" who have attacked the perceived waste of taxpayers money.
Gökçek himself has defended the decision.
After a row broke out following reports he said: "Respect the robot."
Bandai…. what do you think of this…….?