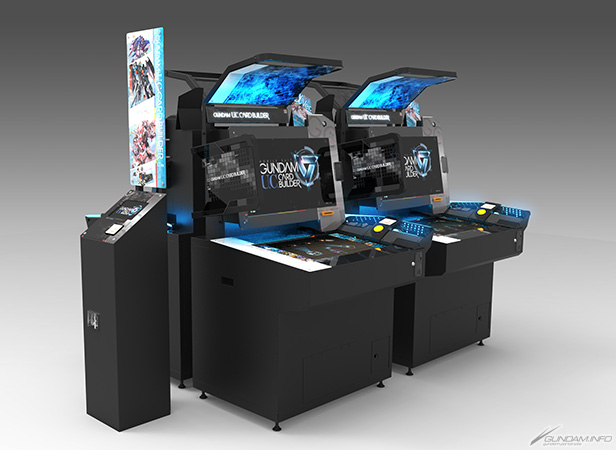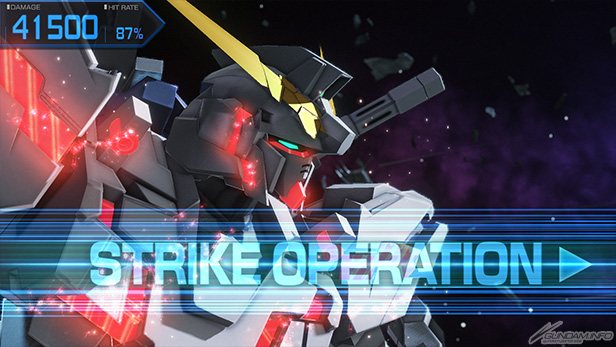 Arcade "Mobile Suit Gundam UC Card Builder" overview is finally published!
7/3よりロケテスト開催!A lot Of Images, Info
Overview of trading card arcade game "Mobile Suit Gundam UC Card Builder" in 2016 operating plan than Namco Bandai Entertainment has announced today June 29 (Mon).
The characters and mobile suits are recorded in the trading card,
And high custo possibilities
Action of fighting with the enemy while assembling the tactics in real time by using the card
It has been supported by many of the players
"Mobile Suit Gundam Card Builder" The latest series.
Was released in 2005, "Mobile Suit Gundam 0079 Card Builder", it was released in 2007
"Mobile Suit Gundam 0083 Card Builder"
(Both service ended in June 2012)
It is his third followed.
This time,
In addition to the game summary announcement, in addition to delivery of release the movie has started at the official site,
July 3 alpha location test will be determined
Original:
[bing_translator]
バンダイナムコエンターテインメントより2016年稼働予定のトレーディングカードアーケードゲーム「機動戦士ガンダム U.C.カードビルダー」の概要が、本日6月29日(月)に発表された。
本作は、歴代ガンダム作品のキャラクターやモビルスーツをトレーディングカードに収録し、自由度の高いカスタム性と、カードを動かしてリアルタイムに戦術を組み立てながら敵と戦うアクション性が、多くのプレイヤーに支持された「機動戦士ガンダム カードビルダー」シリーズ最新作。
2005年にリリースされた「機動戦士ガンダム0079カードビルダー」、2007年にリリースされた「機動戦士ガンダム0083カードビルダー」(いずれも2012年6月にサービス終了)に続く3作目となる。
今回、ゲームの概要発表に加えて、公式サイトにてリリースムービーの配信がスタートしたほか、7月3日(金)よりアルファロケテストが開催されることも決定した。
Here Below The PV Teaser [Screenshots]
リリースムービー配信中!最新情報をチェックしよう!
ティザーPVでは新生ポイントを紹介!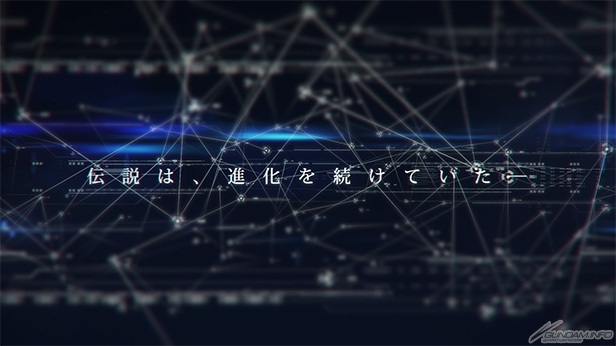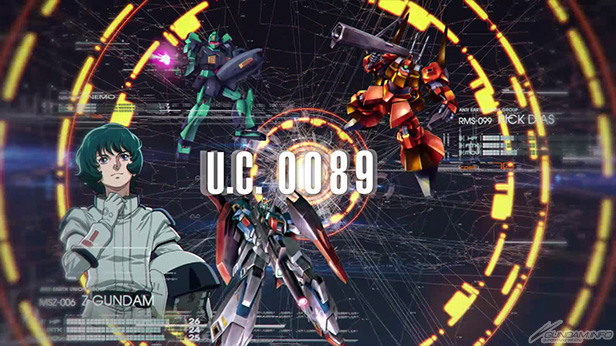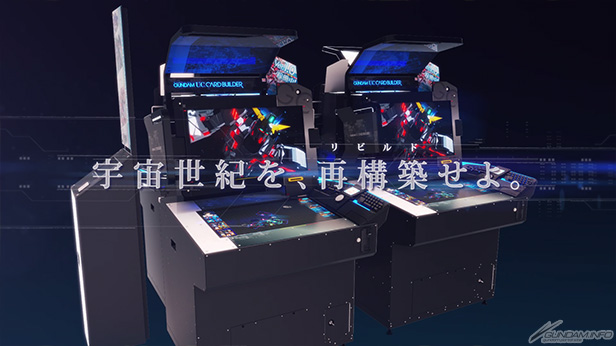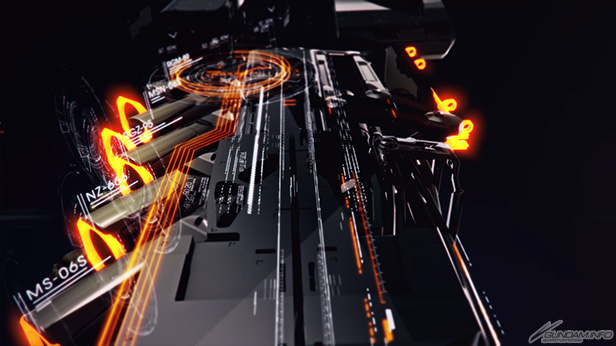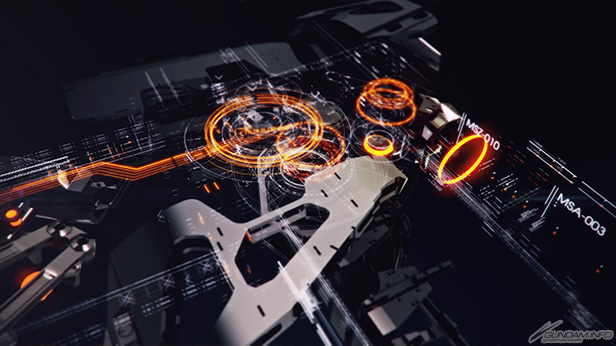 Info from the Producers
プロデューサーからのメッセージも!
On the screen (32-inch full HD)
Beautiful 32-inch full HD display that out vividly reflects the drawn mobile suits and characters in the graphic.
Lower screen (card reading and touch panel)
The liquid crystal display of the flat panel leader, also functions as a touch panel. By touching the monitor while operating the card, to achieve a more technical and highly strategic game system.
Original:
上画面(32型フルHD)
美麗なグラフィックで描かれたモビルスーツやキャラクターを鮮やかに映しだす32型フルHDのディスプレイ。
下画面(カード読み取り&タッチパネル)
液晶ディスプレイ化したフラットパネルリーダーは、タッチパネルとしても機能。カードを操作しながらモニターをタッチすることで、よりテクニカルかつ戦略性の高いゲームシステムを実現。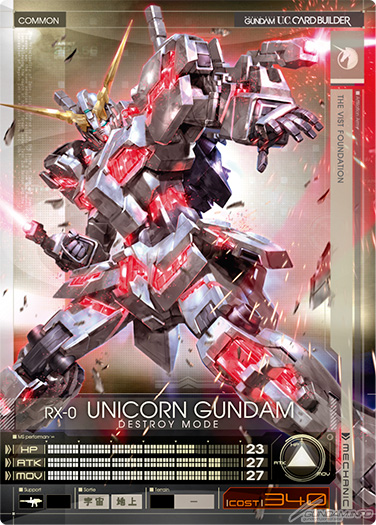 Alpha location test version of the mechanic card [common] is "Unicorn Gundam (Destroy Mode)".
アルファロケテスト版のメカニックカード[コモン]は「ユニコーンガンダム(デストロイモード)」。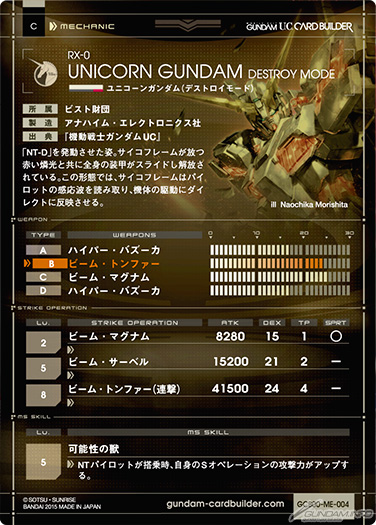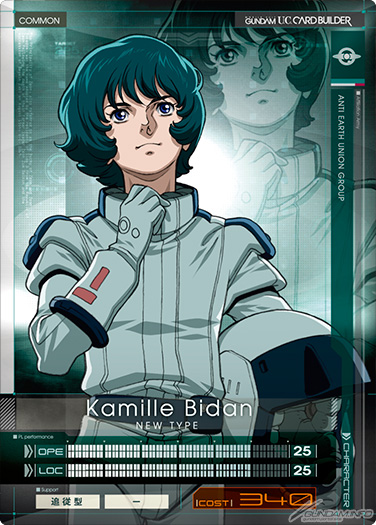 Alpha location test version of the character card [common] is "Kamille Bidan".
アルファロケテスト版のキャラクターカード[コモン]は「カミーユ・ビダン」。
From 3 July 2015 "namco Lazona Kawasaki store"
test is held in alpha location
You can experience the game
Alpha location test:
In Kanagawa · namco Lazona Kawasaki July 3 to be held in more than three-day were determined.
ロケテスト at 300 yen one play,
answer the questionnaire after the play,
Bana passport card
Use original sticker
[bing_translator]
Original:
7月3日(金)より「namcoラゾーナ川崎店」でアルファロケテスト開催!
一足先にゲームを体験できるアルファロケテストが、神奈川・namcoラゾーナ川崎店にて7月3日(金)より3日間限定で開催されることが決定した。
ロケテストは1プレイ300円で、プレイ後にアンケートに回答すると、バナパスポートカード用オリジナルステッカーがプレゼントされる。
ぜひとも参加して、再び始まる物語を目撃しよう。
Alpha location test
[Venue]
namco Lazona Kawasaki
(Kawasaki City, Kanagawa Prefecture, Saiwai-ku Horikawa-cho 72-1 LAZONA Kawasaki Plaza 4F)
[Date]
July 3, 2015 (Friday) 18:00 to 23:30
July 4, 2015 (Sat) 10:00 to 23:30
July 5, 2015 (Sun) 10:00 to 23:30