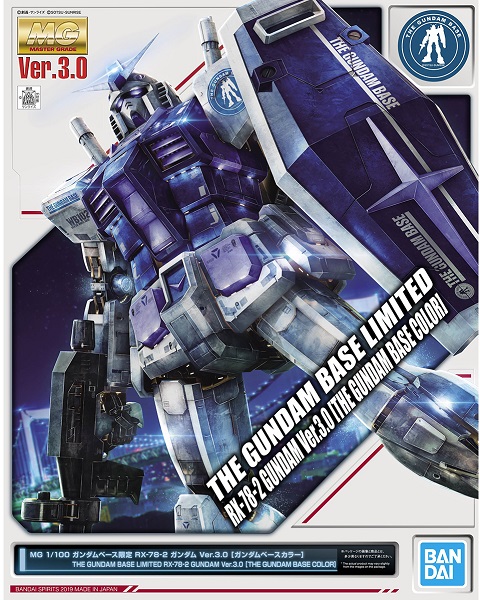 The Gundam Base Limited
MG 1/100 RX-78-2 GUNDAM Ver.3.0 THE GUNDAM BASE COLOR
On November 30, 2019, "MG 1/100 Gundam Base Limited RX-78-2 Gundam Ver.3.0 [Gundam Base Color]" will be released at Gundam Base Tokyo.
Description of item:
Pre-sale at the pre-opening of Gundam Base Fukuoka on November 28
This is a limited edition for Gunpla fans all over the world.
Master-grade Ver.3.0 RX-78-2 Gundam appears in a refreshing blue Gundam base color.
It is equipped with "movable armor system" which adopted new movable interpretation. Added mobility linked to the inside of the armor parts.
Shoulder armor and backpack cover are also movable, improving freedom of arm movement.
Anti-armor opening / closing mechanism improves ankle movement.
The core fighter can be stored inside the body by changing its shape.
Uses paintable material for internal structure.
Includes Gundam Base original special marking stickers such as shoulder armor and shield.
Price: 4,950 yen (tax included 10%)