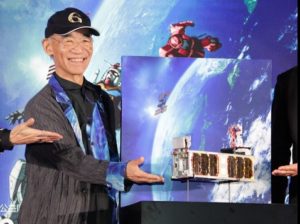 Message commemorating Tokyo 2020 Olympics will be voiced by Amuro, Char's voice actors
The G-Satellite will measure 10cm x 10cm x 30cm with a Gundam model mounted on top and a model of Char's Zaku in the "cockpit" inside. Both Gunpla models are outfitted with special paint and materials that can withstand the harsh conditions of space. A message board will display greetings near the foot of the Gundam and its eyes will cycle through the five Olympic colors. The satellite will house seven cameras to capture footage of the Gunpla in action.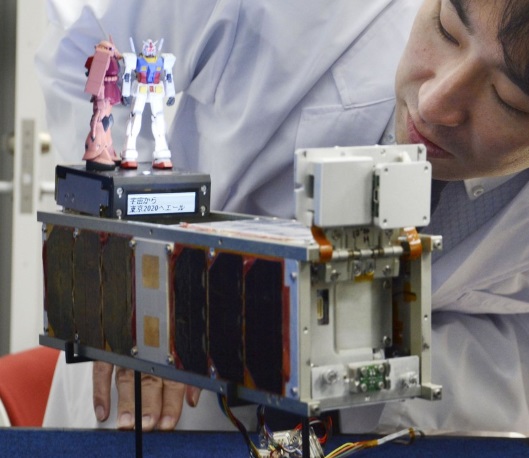 Mobile Suit Gundam creator Yoshiyuki Tomino revealed at a press conference on Tuesday that he will write the message that will be transmitted.
The press conference also revealed that the message will be voiced by Amuro and Char's voice actors Toru Furuya and Shūichi Ikeda. Tomino commented: "I made a message that proclaims the truth clearly. I can't reveal it here, so I want you to hear the message transmitted from space. You'll definitely laugh." He did, however, indicate that the dialogue between Amuro and Char was of a different kind than usual, describing it as a "first" for him. "Normally, you'd imagine Amuro and Char duking it out in their mobile suits, so it was quite tough writing a conversation that veers away from that."
The project is backed by the Tokyo Organizing Committee of the Olympic and Paralympic Games. Staff at the University of Tokyo will develop an ultra-small "G-SATELLITE" equipped with a Gundam and Char's Zaku to release into space from the International Space Station's Japanese Experiment Module (JEM) between March and April 2020
Source: The Mainichi Shimbun's / animenewsnetwork