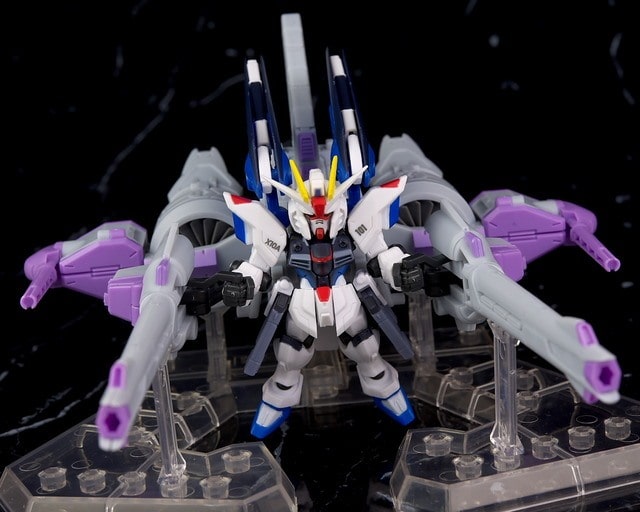 MOBILE SUIT ENSEMBLE EX フリーダムガンダム&ミーティア レビュー
MOBILE SUIT ENSEMBLE EX14A Freedom Gundam
Released: December 2019 – Price: 4,180 Yen
Premium Bandai Hobby Online Shop
MOBILE SUIT ENSEMBLE EX14B Meteor
Released: December 2019 – Price: 4,950 Yen
Premium Bandai Hobby Online Shop
The ZGMF-X10A Freedom Gundam (aka Freedom, X10A) is a mobile suit that appears in the Mobile Suit Gundam SEED and Mobile Suit Gundam SEED Destiny anime. The unit is piloted by Kira Yamato.
The METEOR (Mobile suit Embedded Tactical Enforcer) is a Mobile Suit support system used in the Cosmic Era timeline.
The Mobile Suit Embedded Tactical Enforcer, or METEOR, is an armed module designed to support the nuclear-powered ZGMF-X09A Justice Gundam and ZGMF-X10A Freedom Gundam.
It is well-armed with several missile launchers distributed throughout its body, a small pair of beam cannons at the sides, a larger pair of beam cannons in front and a pair of beam sword also at the front.
Thanks to these heavy armaments, the METEOR has the firepower of a warship or even a mobile fortress, and the Justice Gundam and Freedom Gundam can use their "Multi Lock-On System" to target these weaponry at multiple enemy units and destroy them all at once.
The unit has a pair of powerful engines that are derived from those used by ZGMF-1017M GINN High Maneuver Type for high speed movements, it also has its own internal battery, but is designed to draw energy from the Justice and Freedom when docked with either units.
When not used by Freedom and Justice, the METEOR is attached to the hull of the FFMH-Y101 Eternal, a warship designed to support the Justice and Freedom, and can be used as gun turrets in this form.
Two METEOR units are later retrofitted with nuclear reactors and N-Jammer canceller to allow non-nuclear powered MS to use them.
[bing_translator]
アンサンブルはヴァサーゴCBとアシュタロンHCきっかけで買い始めたので集め方が中途半端ですが、このフリーダムは特別好きなMSかつ造形など良さげで、作りがしっかりしてそうなミーティアも同時発売ということで購入。
出来の方は相変わらず組み立てがちょっと手間ではあるものの、フリーダム、ミーティア共にデフォルメのバランスなどが丁度良く、全体の造形も良好、塗装の省略も少なく小さいサイズながらギミックも凝っててかなり満足度の高い内容でした。
フリーダムがあるとジャスティスやプロヴィデンスも並べたくなり、このシリーズならカラミティ、フォビドゥン、レイダーなんかももしかしたらという感があるので今後のラインナップにも期待です。
review by はっちゃか
blog.livedoor.jp/hacchaka