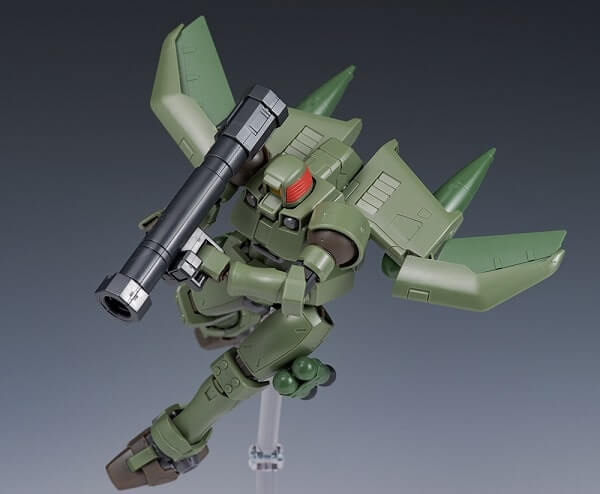 This kit comes with one HGAC Leo unit, and all its available equipment in Leo-green colors
Released: January 2020
Price: 2,310 Yen
ACCESSORIES:
Dober Gun
Bazooka
Drum gun (105mm rifle)
Beam saber x 2
Shield
Long beam rifle
Short beam rifle
Mega beam gun
Colony beam rifle
Various shoulder parts
Various backpacks
Parachute pack
It also comes with a newly molded parachute pack that can be installed in replacement for its backpack hatch.
The Mobile Suit Gundam Wing anime series celebrates its 25th anniversary in 2020.
The series is planning to release a lot more Gunpla from the title. That also includes the revival of Mobile Suit Gundam G-Unit model kit series as Premium Bandai exclusive in which are also aimed to be released anytime in 2020 starting off with the Gundam Geminass 01.
HGAC リーオー(フルウェポンセット) レビュー
HGACで色々なバリエーションが発売されたリーオーですが
今回は多数のオプションが同梱されたフルウェポンセットが登場。
価格は2,310円でプレミアムバンダイでの受注品となります。
以上HGAC リーオー(フルウェポンセット)レビューでした。
フルウェポンの名前通り、過去に発売されたHGACリーオーの武装がユニット含め全て入っています。
さらに新規パーツでパラシュートパック&平手も入っていて
リーオーの中では最大のボリュームがあるキットになっていました。
成形色の色味ももちろんグリーンで統一されているので好みで色々な仕様にする事ができますし
これだけ武装があるので他のリーオーと分け合っても良さそうです。
余剰パーツで平手やパラシュートパックが1セット余るので、塗装の必要はありますがそちらも流用できるのは嬉しいですね。
schizophonic9.com