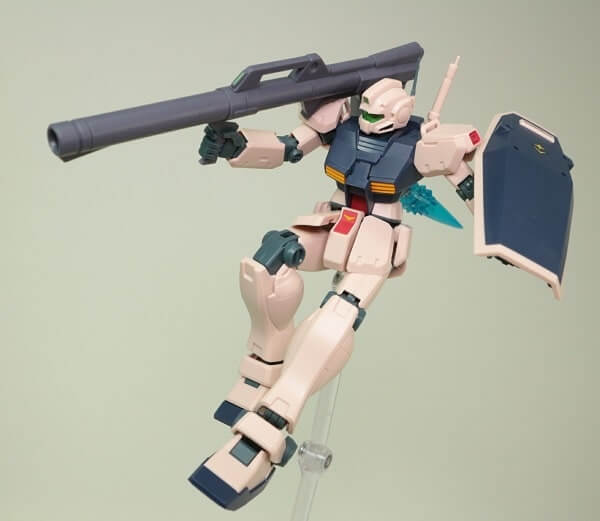 The RGM-79C GM Type C (aka GM Kai) is an improved version of one of the Earth Federation Forces' first mass production mobile suit, the RGM-79(E) GM Early Type. It first appeared in Mobile Suit Gundam 0083: Stardust Memory.
As seen in the classic OVA series Gundam 0083, a definitive portrayal of the RGM-79C GM Type C joins the Robot Spirits ver. A.N.I.M.E line!
Packed with accessories that let you re-create dramatic scenes, such as the epic battle against the hijacked GP02 at Torrington Base.
Designed as an improvement of the standard RGM-79 GM, this mobile suit served in the Earth Federation Forces towards the end of the One Year War.
Deployed in large numbers at Torrington Base, they fought numerous engagements with Zeon forces, including South Burning's epic takedown of the Xamel. This set includes a hyper bazooka, bullpup machine gun, shield, beam saber effects (straight/curved), two Vernier effects, joint connector set, four pairs of optional hands, and a hand storage deck
The GM Type C was introduced in the final days of the One Year War, participating in the Battle of A Baoa Qu and the attack of the asteroid base's E Field.
After the war ended, the Earth Federation Forces (EFF) began a massive restructuring and rebuilding of its military strength.
Finally recognizing that mobile suit warfare was here to stay, they set about improving on their mass-produced MS, the RGM-79 GM.
The GM Type C became the standard production model, gradually phasing out the older GM.
The EFF continued to develop many other GM-type units, such as the RGM-79N GM Custom and RGM-79Q GM Quel.
However, none of them possess what the Earth Federation was looking for and the GM Type C remain the mainstay unit of the Earth Federation until the development of the RMS-179 GM II and the RMS-106 Hizack.
機動戦士ガンダム0083 STARDUST MEMORYより
ROBOT魂 RGM-79C ジム改 ver. A.N.I.M.E.のご紹介です!
vega0083.blog.fc2.com