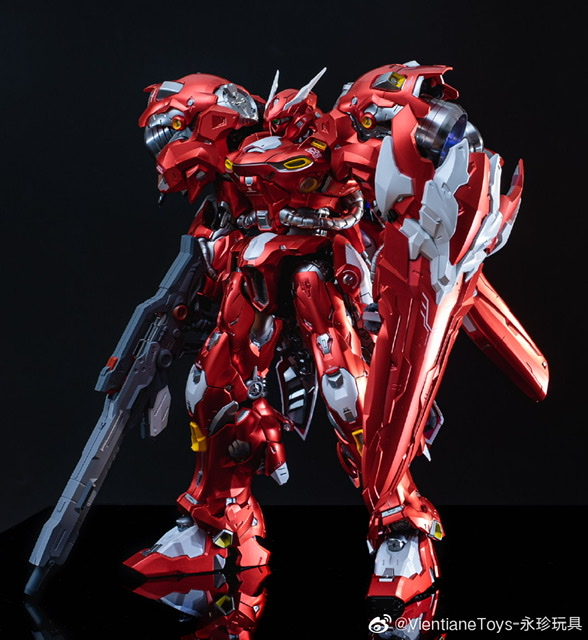 1/72 Gerbera Tetra Kai Suzaku VientianeToys
New notice of VientianeToys (MO SHOW / Warrior Toys / POISON TOYS)
1/72 Gerbera Tetra Kai Suzaku VientianeToys
HP search keyword (part number): "S321"
Since the quality reputation of the previous work Buster and the previous work's alloy cruelty was too great,
Suzaku can be expected too.
* Product specifications may change without prior notice from the manufacturer.
The specifications at the time of purchase are assumed to be positive for accessories and parts configuration.
紹 介 Introduction content by this article is the information at the time of update.
[April 6, 2020] Optional backpack ※ Attached to the body kit.
" S321-2 " backpack optional equipment released,
It is a bit disappointing that it is not a Sturm booster with its original specifications.
The official name is "Mad 飙 飙 进", and if the Japanese translation is "Hyper booster" is appropriate
According to the information released today, this equipment was attached to the main body, so it was found that it was not necessary to purchase it separately.
After the official reservation deadline, the product strategy may not be able to disclose additional option information.
That's good news for the average consumer.
VientianeToys 社 (MO SHOW/Warrior Toys/POISON TOYS)新作予告
合金完成品 1/72 ガーベラ・テトラ 改 朱雀 VientianeToys社
HP検索キーワード(品番):「S321」
前前作のバスターと前作の合金窮奇の品質評判があまりにも素晴らしかったので、
朱雀のほうもなかなか期待できそう。
※メーカによる事前周知なしで商品仕様の変更が発生する場合があります。
 付属品、パーツ構成などは購入時の仕様を正とします。
 本記事による紹介内容はあくまで更新時点の情報となります。
【2020年4月6日】バックパックオプション装備 ※本体キットに付属。
「S321-2」バックパックオプション装備公開、
オリジナル仕様で、シュツルム・ブースターではないのがやや残念。
公式名は「狂飙推进器」で、日本語訳なら「ハイパーブースター」が妥当かと
なお、本日公開した情報では本装備は本体に付属することとなったため、別途購入不要だとわかった。
公式予約締切日後、追加オプション情報の公開について商品戦略ではどうかと思うが、
一般消費者にとってはまさしく朗報だ。