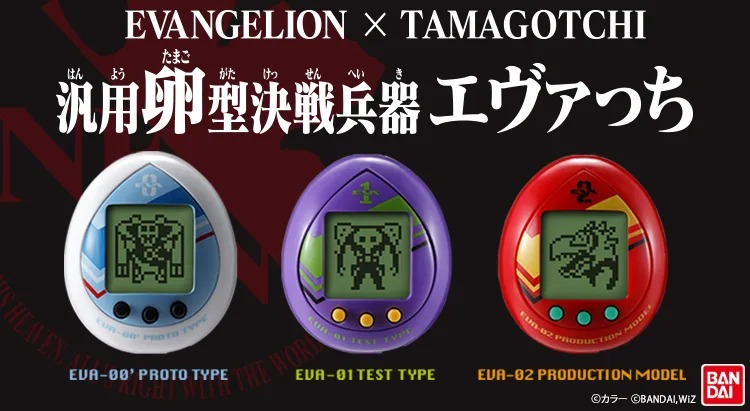 Scheduled to be released on June 13, 2020 [General purpose egg-type battle weapon Evatchi]
From "Tamagotchi"
Evangelion motif
"General-purpose egg-type battle weapon Evatchi" is now available!
Evangelion first appeared in Tamagotchi!
Enjoy the mission of fostering unique apostles!
Tamagotchi this time has more than 20 variations of "Apostles" that can be raised!
If you are hungry, give an S2 engine to the purpose of training and adjust the LCL that becomes contaminated over time!
If you close your mind, you will develop the AT field, so do not neglect the training task!
In addition, she escaped from the spear of Longinus, and the first Eva machine also appeared, so detailed production that fans can't stand!
lineup:
(1) General-purpose egg-type battle weapon Evatchi test first machine model
(2) General-purpose egg-type battle weapon Evatchi Asuka model
(3) General-purpose egg-type battle weapon Evatchi Rei model
・ Price: All 3  2,530 yen each ・ 10% tax included
・ Release date: Scheduled to be released on Saturday, June 13
・ Body size: Total length about 4 cm