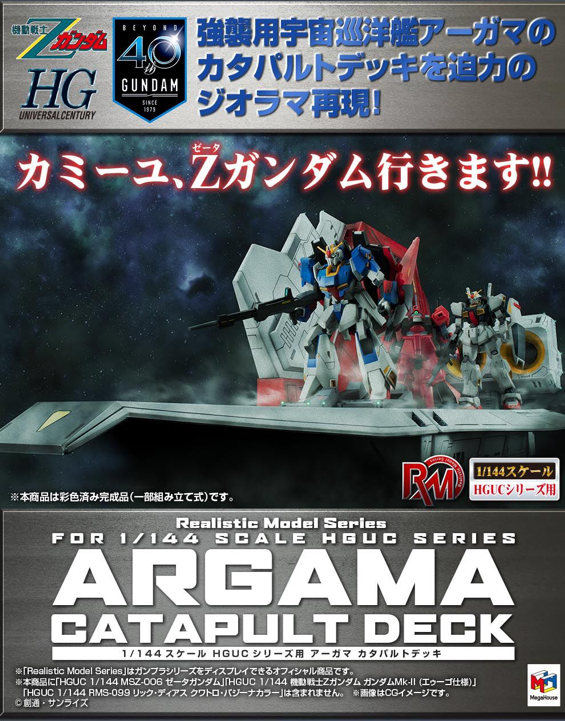 From "Mobile Suit Z Gundam" "Assault Space Cruiser Argama" Catapult Deck is here!
Sales price 14,080 yen (tax included)
Acquisition point 140P
Delivery date Scheduled to be shipped in September 2020
"Camille, I'm going to Z Gundam!"
In commemoration of "Gundam 40th anniversary" last year, it was resold as RENEWAL EDITION,
The latest model of the diorama display model dedicated to the Gunpla 1/144 HGUC series, which follows the popular White Base Catapult Deck.
Introducing the "Assault Space Cruiser Argama" catapult deck from "Mobile Suit Z Gundam"!
In contrast to the white base, the open type catapult deck is a compact 40 cm wide "fortress mode" by recombination
"Short", "Semi-long" and "Long catapult mode" with a maximum length of about 1 m, and 4 modes can be changed depending on the space.
The MS launch pad that moves on the deck can be slid from within the storage gate.
There is also a compatible slit on the back of the gate that allows you to join the 1/144 Builders Parts Weapon Rack.
You can display your MS etc. in a situation according to your preference.
Also, the main body is a pre-painted semi-finished kit, so you can enjoy it even in unassembled,
If you are a real hobbyist, you can enjoy more detail by using the included marking decal.
In addition, accessories such as dedicated attachments for wall displays are also available.
Please enjoy the 1/144 catapult launch scene with a realistic feel.