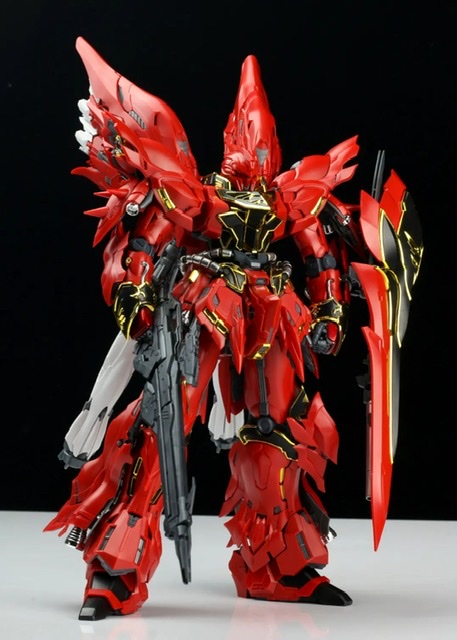 MG 1/100 MSN-06S Sinanju Exterior Modification Plastic Model Kit
review reprint!
A review article that mainly introduces each part gimmick.
The whole body emblem and the internal parts use gold-plated parts to improve the sense of precision even in the unassembled state
By the way, the following review uses the long rifle from 1/144 Sazabi.
Even though it is 1/144, it is strange that it can be used even on a 1/100 scale without any discomfort.
Thruster unit added to the side of the shoulder unit.  Silver and cold 2 parts to enhance the layer feeling.
The expansion mechanism like Sazabi is built in, and the upper part of the shoulder unit can be opened and closed.  You can check the internal mechanism of silver painting.
Suspend the shield on the outer part of the upper arm.  Run the attached joint parts along the semi-circular rail.
Attaching the joint parts to the upper arm makes it difficult to remove.
Larger shield.  I couldn't attach the Gatling because it was remodeled.
Front armor deployment mechanism
Rear armor deployment mechanism
Flexible thruster has a built-in deployment mechanism like RG
A lot of movable gimmicks are used, with major modifications made to the backpack and the original kit.
Thrust deflection thruster has a two-stage deployment mechanism
Parts that are marked with the following arrows can be easily attached by cutting diagonally
Takumi Studio brand