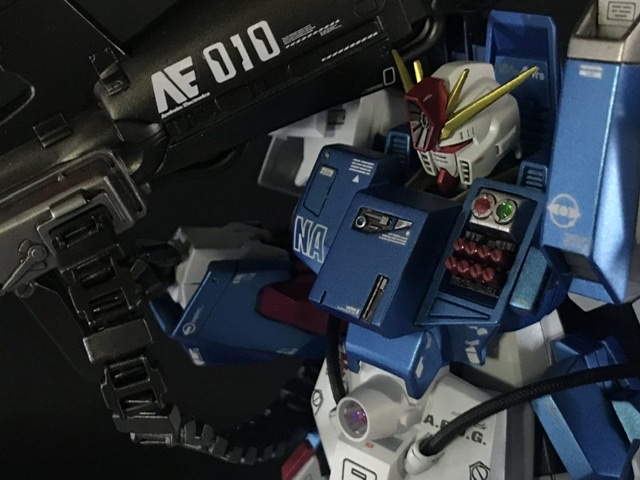 From the modeler:
Using the HGUC ZZ Gundam and the old kit FAZZ, I made a full armor ZZ Gundam (read more…)
It is very difficult to set in this state.  However, once assembled, the weight balance with the backpack will be good and it will be very stable!
The Hyper Mega Cannon is a workmanship that can not be thought of as an old kit, and it can be transformed with a little detail improvement.
The backpack isn't getting bigger. Wouldn't it be self-sustaining if it got bigger?  With that.  Twin tail attached to FAZZ?  Can be removed with a magnet.  A power pipe receiver is also included in the backpack.
The 1/144 full armor ZZ is not a kit, so the satisfaction level is 120 points. 🙂
All armor can be completely removed by pressing magnets.
Well, I think I'll never take it off again because must be careful.
Temporary assembled state.  From here, the armor of the arm is narrowed to the point where it can be removed.
The moving body armor is carved on the back side to make it adhere to the body.
The leg armor is not tightly packed for removal, but instead, the U-shaped projection on the knee is greatly extended.  Compared with MG FAZZ etc., this kit is very short here, and I felt that this was the reason for the feeling of short legs.
Masking Hyper Mega Cannon
There are not so many, but I add and subtract small details.
The new translation ZZ Gundam Team is under praise and adjustment to be completed.  The image is halfway.
Translated from Japanese ….
Work by GumpLiver