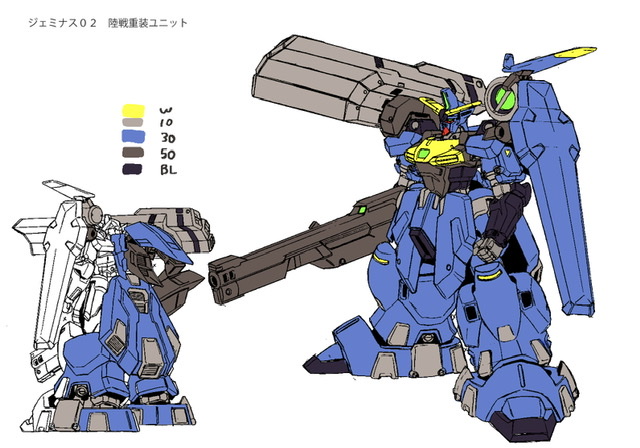 The set illustrations of Gundam Geminass Ground Battle Heavy Unit 2 (Gundam EXA appearance version) have been released.
The OZX-GU02A Gundam Geminass 02 is a mobile suit that appears in the manga New Mobile Report Gundam Wing Dual Story: G-Unit. It is piloted by MO-V's Odel Bernett.
The Geminass 02 was eventually damaged in battle by the OZ Prize and captured. The damaged Geminass 02 was then remodelled by OZ Prize, becoming the OZ-10VMSX Gundam Aesculapius.
In Gundam EX A, Pigna Hershey uses the Gundam Geminass 02 equipped with the Land Unit to engage with Duo Maxwell's XXXG-01D Gundam Deathscythe.
Gundam EXA (ガンダム EXA) is a manga written by Tomohiro Chiba and illustrated by Kōichi Tokita, published by Kadokawa Shoten and serialized in Gundam Ace magazine in 2011. Being Gundam Ace's 10th Anniversary Project, it is tied in with the arcade and PS3 Game Mobile Suit Gundam: Extreme Vs. Full Boost.