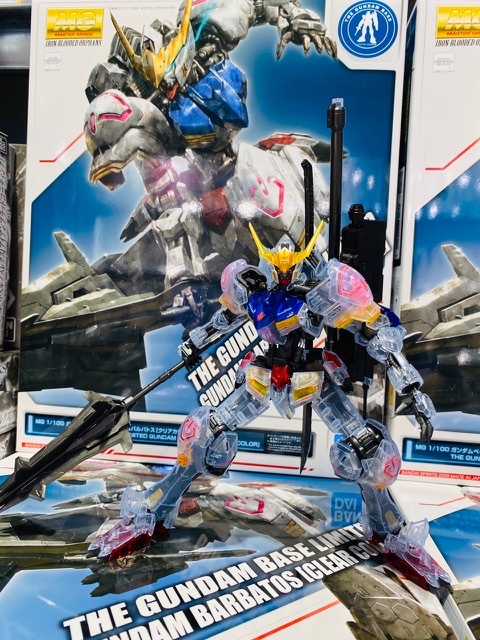 MG 1/100 Gundam Base Limited Gundam Barbatos Clear Color
It is a limited edition Gunpla of the official Gunpla general facility "Gundam base" for Gunpla fans all over the world.
From "Mobile Suit Gundam Iron-Blooded Orphans" comes a clear color version of Gundam Barbatos's fourth form, the protagonist!
The molding color has become a clear color, and the charm of the internal mechanism Gundam frame and Ahab Reactor becomes clearer!
The internal structure of the Gundam frame has been carefully examined and reproduced in detail during the play.  Silver is used for the cylinder!
Equipped with a rotating gimmick on the Ahab reactor on the chest!
Internal frame, cylinder, and armor are linked by the movable shaft incorporated in the upper body.  This makes it possible to create dynamic poses!
The shoulder cylinder reproduces the mechanical structure that follows the pulling movement.  You can express the aggressive poses of Barbatos!
Knees are movable in conjunction with the frame and cylinder.  The range of motion is expanded by pulling out the parts on the back of the knee, allowing a natural standing knee!
In the standby position, the swing to the left and right, and the axis movement of the hip joint are reproduced.  You can enjoy the characteristic waiting pose of looking down!
Replacement type with 3 types of hand parts.  Weapons are designed to be attached to the palm of your hand along with the fingers of the weapon holder.
Mace can slide grip and tip!
The sliding and folding gimmick is mounted on the barrel of the gliding gun.  Pursuing ease of play with a lock mechanism!
Price 4,950 yen (tax 10% included)