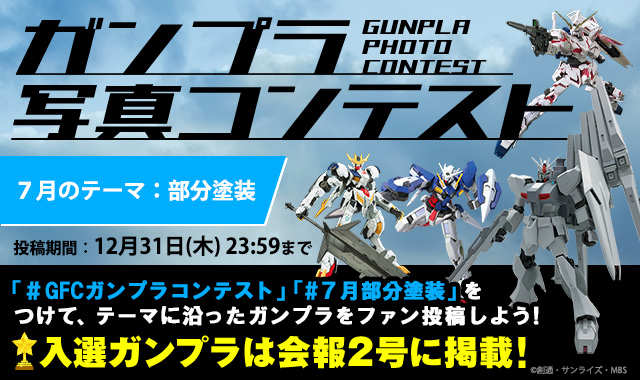 The official application "Gundam Fan Club (GFC)" is holding a "GFC Gunpla Contest" to collect photos of Gunpla produced according to the theme every month.
The theme for July is "partial painting," and you can post anything that you created in the past, as long as the theme is met.
Outstanding works will be published in the newsletter No. 2 (scheduled to be published in March 2021) with "Comments from Kawaguchi Meister".  Also, if you post the theme for this month during July, the official will be picked up from that and will be introduced in the next article, so let's apply for it.
Outline of "GFC Gunpla Contest"
Posting method
Gunpla photos along the subject,
・"#GFC Gunpla Contest"
・The hashtag of the theme used
Post with.
(Example)
Use the July partial painting theme ⇒ "#GFC Gunpla Contest" "#July partial painting"
Posting period
Contest Winners: Until December 31, 2020 (Thursday) 23:59
Official pick-up introduction target: Until July 31, 2020 (Friday) 23:59
theme
・"#July partial painting"
・"#August whole painting"
・"#September marking"