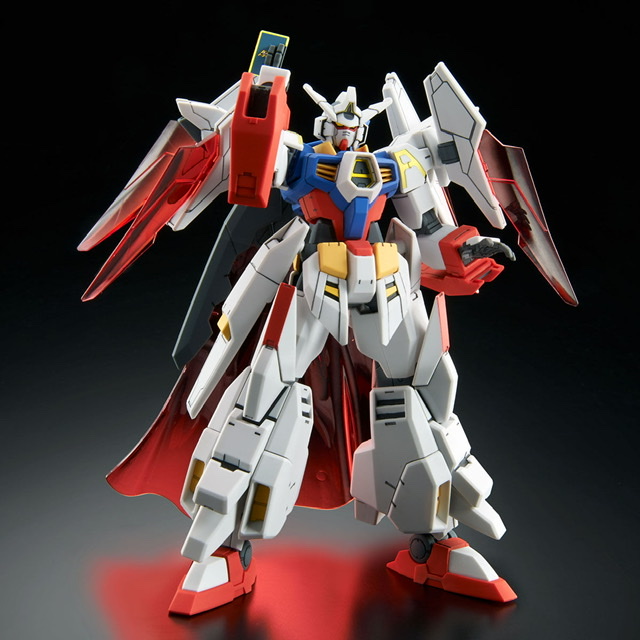 GUNDAM TRY AGE 9th anniversary: HG Try Age Gundam, images info
Sales price 2,970 yen (tax included)
Acquisition point 29P
Reservation acceptance started 19:00 on July 29, 2020
Delivery date Scheduled to be shipped in November 2020
GUNDAM TRY AGE 9th anniversary
Reproduce the aircraft coloring with tricolor color and clear red.  Includes original color effects that can be used in the game.
Thoroughly reproduce the characteristic aircraft color with molding color
Reproduced tricolor color mainly in white, blue and red with molding color.
Clear red is used for the characteristic shoulder and cloak effect parts.
Original color clear effect parts are included!
The giant sword is reproduced in clear red, and the shooting effect part is reproduced in clear pink.
The in-game action can be reproduced.
Attached armament: Tridods Rifle / Trislash Blade / Triarm Sword
Accessories: Display base
This product may be sold overseas, such as at events sponsored by our company, or overseas.
This product has a limited number of items to be sold at premium Bandai
Please be aware when the product is out of stock.
This product is limited in the quantity that can be purchased per person due to the number of production preparations.  Please note.
The shipping date of this product may change depending on the application status and production.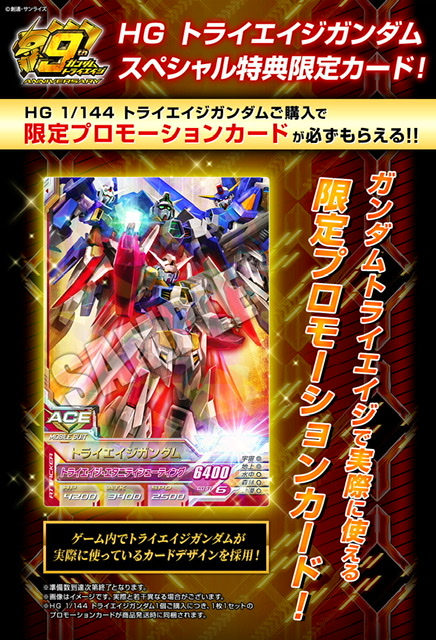 *For customers who have booked the target products on Premium Bandai during the period,
We will attach a designated purchase privilege. The benefits will be shipped together with the eligible products.
*One "Special Bonus Limited Card" is included with each purchase of the target product.
If you purchase 2 products, 2 will be included.
● Target products:
HG 1/144 Tri-Age Gundam [With benefits]
〇 Purchase privilege:
[Purchase Bonus] HG Tri-Age Gundam Special Bonus Limited Card
Award period: July 29, 2020 (Wednesday)-End as soon as it disappears
*The benefits will be delivered in November 2020. Please note.
*The amount of preparation for each privilege is limited. We will stop accepting orders as soon as the number of preparations is reached even within the period.
In that case, we will guide you on this page as there will be preparations without the benefits.
*The names and specifications of the benefits are subject to change.
Q: How can I check if I have a purchase privilege?
A: The benefits will be added to the reservation for the target product on My Page, and you can check it from "Order history" ⇒ "View details" from around the beginning of November 2019.