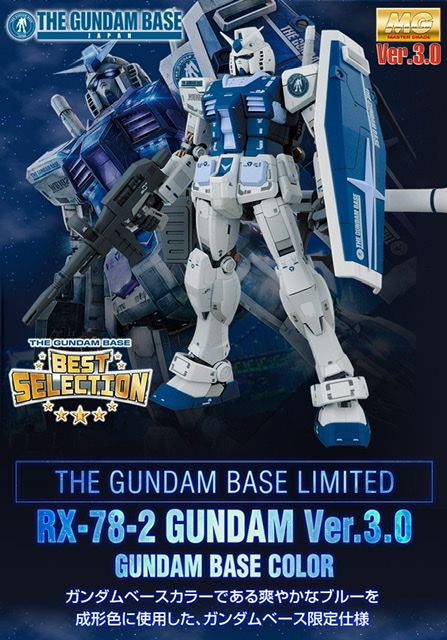 Gundam Base Online Shop of Premium Bandai, "MG 1/100 Gundam Base Limited RX-78-2 Gundam Ver.3.0 [Gundam Base Color]
MG 1/100 ガンダムベース限定 RX-78-2 ガンダムVer.3.0[ガンダムベースカラー]【2020年11月発送】
Sales price 4,950 yen (tax included)
Acquisition points 49P
Reservation acceptance started 13:00 on July 31, 2020
Delivery date Scheduled to be shipped in November 2020
For Gundam fans all over the world, limited Gunpla from the official Gunpla general facility "Gundam Base" will be available at the Gundam Base online shop as "Best Selection"!
Master grade Ver.  The RX-78-2 Gundam 3.0 comes up in a refreshing blue Gundam base color.
-The molding color is a special color specification based on the image of Gundam base!
Special marking sticker included
-Gundam base original special marking stickers such as shoulder armor and shield are included.
Core fighter can be transformed
Can be stored inside the body by deforming.  A dedicated core block unit is also included.
Can reproduce magnet coating state
The elbows, knees, and ankles can be attached with optional parts that reproduce the magnetic coating state and normal parts.
By attaching an optional LED unit (blue), the light emission of the camera eye can be reproduced.
Attached armed: beam rifle / hyper bazooka / beam saber / shield