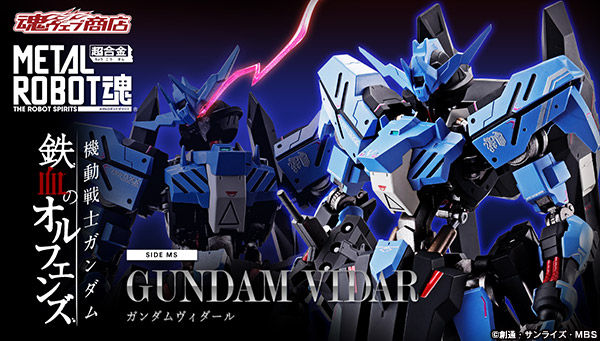 METAL ROBOT魂 Gundam Vidar: PV, info, images
"METAL ROBOT Spirits Gundam Vidar" which is currently accepting reservations on Premium Bandai, will close at 23:00 on August 23 (Sun) the day after tomorrow.  Scheduled to be shipped in November, the price is 15,400 yen (tax included).
"Gundam Vidar" from "Mobile Suit Gundam Iron-Blooded Orphans" has appeared in the double name brand "METAL ROBOT Spirits" that fuses Chogokin and Robot Spirits.
Supervised by Ippei Katabe, who was in charge of the mechanical design of Gundam Vidar, and pursued the image in the play to the limit.
METAL ROBOT This is the heaviest die-cast in the history of the Robot Spirits, and because it is a real metal, the realistic machine-like reality of the Gundam frame is reproduced.
In addition, the body, which is colored based on the matte color, expresses a sense of quality by interspersing textures such as semi-gloss and metallic.  Markings are applied to various parts of the body.
In addition, the hunter edge of the foot can be expanded, and a burst saber, a handgun for Vidar, a rifle (110 mm) are also included.
Since this item is a limited quantity production, reservation acceptance will end as soon as the prepared quantity is reached.  If you definitely want it, make a reservation early.
METAL ROBOT spirits  <SIDE MS> Gundam Vidar
Price: 15,400 yen (tax included)
Reservation acceptance end: Sunday, August 23, 2020 23:00
Product shipment: Scheduled for November 2020