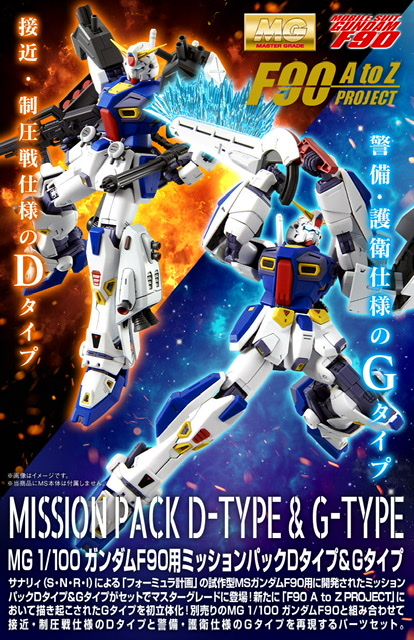 Images MG Mission Pack D and G Type for Gundam F90
The F90 Gundam F90 ("F90" standing for "Formula 90") is a mobile suit from the Mobile Suit Gundam F90 manga.
MG 1/100 ガンダムF90用 ミッションパック Dタイプ&Gタイプ
Sales price 2,200 yen (tax included)
Acquisition points 22P
Reservation acceptance start 14:00 on September 4, 2020
Delivery date Expected to be shipped in December 2020
The F90 Gundam F90 Destroid Type is one of the variants developed for the F90 Gundam F90 by Strategic Naval Research Institute between U.C 0110s and 0120s. The F90D Gundam F90 Destroid Type (or "D-Type" for short) is designed to overpower the enemy's main force and has high mobility as well as heavy firepower.
Its typical operating pattern involves first suppressing the various primary targets then mopping up the others through melee combat.
Its mobility is heightened thanks to the booster packs on the legs, while its heavy firepower is provided by the large number of close combat firearms, such as Gatling gun, crackers, grenades and rockets.
Type G (Guards Type)
Defensive spec.