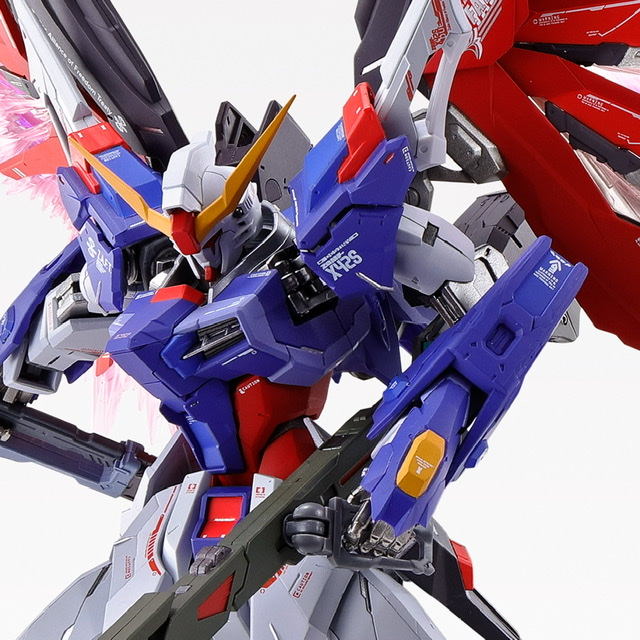 METAL BUILD Destiny Gundam SOUL RED Ver. Full info, images
Description of item
As the first Project of METAL BUILD, which celebrates its 10th anniversary in March 2021, it is calculated backward from "Red" alongside "Strike Freedom Gundam SOUL BLUE Ver." which was well-received as a commemorative product of TAMASHII NATION 2018.
The Destiny Gundam, with its unique color and high quality matte paint, is now available at a special price, equipped with the new "Wings of Light" with added printing/holography.
Product specifications
Overall height: about 180 mm
Wings of light: Approximately 500 mm in width
Main product materials: ABS, PVC, die-cast, PET sheet
Set contents
Destiny Gundam body
Replacement wrist left and right 4 each
Backpack
High energy beam rifle
Anti-beam shield
Arondate Beam Sword
High energy long range beam cannon
Set of beam effect parts
Stand joint
Pedestal
Wings of light (Large) Left and right
Wings of light (small) Left and right
A set of fixed parts
Price: 25,300 yen (tax included)
Delivery date: Scheduled to be shipped on Wednesday, November 4, 2020
CLUB TAMASHII MEMBERS pre-sale
9/10 (Thurs) 16:00-9/11 (Fri) 23:59
・ 2nd sale 9/17 (Thursday) 12: 00 ~, 18: 00 ~
・3rd sale 9/23 (Wednesday) 18: 00 ~
The ZGMF-X42S Destiny Gundam is the titular mobile suit of Mobile Suit Gundam SEED Destiny and was piloted by Shinn Asuka. A straight-built Gunpla version is piloted by Shimon Izuna in Gundam Build Fighters Try.
Mirage Colloid System:
Activated when Wings of Light is used, it spreads Mirage Colloid particles, leaving a trail of after-images that can confuse enemy pilots and also make the Destiny Gundam difficult to capture.
Destiny's head crest displays the text "X-42S DUE", where in italian "Due" means two and a reference to Destiny's series number.
During the battle of Orb, a blue beam is seen destroying a Murasame. As no other mobile suits are known to use blue beams, it is speculated that the attack is from Destiny's palm beam cannons, and this suggests that they can also serve as ranged weapon. However, this is never confirmed in any official materials.
The Destiny appears in the Extreme Vs. series as a 3000 cost unit. While its main weapons include its beam rifle, beam boomerangs, palm cannons and anti-ship sword, Shinn can fire the Destiny's Beam Cannon either as a single shot or for a sustained shot. When using the Voiture Lumiere, the Destiny will avoid incoming attacks and can perform a barrel roll during the Voiture Lumiere to shoot its beam rifle in order to stun an opponent.
In Extreme Vs. 2, the single shot from the Destiny's Beam Cannon was replaced with a support from Rey Za Burrel's ZGMF-X666S Legend Gundam, and the Destiny was also given the ability to charge straight for the opponent with the anti-ship sword during Voiture Lumiere. For its burst attack, the Destiny will activate its Voiture Lumiere to perform multiple strikes on the opponent with the anti-ship sword before grabbing them with blasting them with its palm cannons.
Heine's custom what-if Destiny also appears as a powered down variant at a cost of 2500. Aside from reduced damage, Heine's Destiny can only toss its beam boomerangs in a V-shape unlike Shinn's being able to toss them both in a V or in a horizontal line.
Additionally, Heine cannot use the Destiny's beam cannon for a sustained shot, instead flinging its anti-ship sword to stun an opponent for a combo.