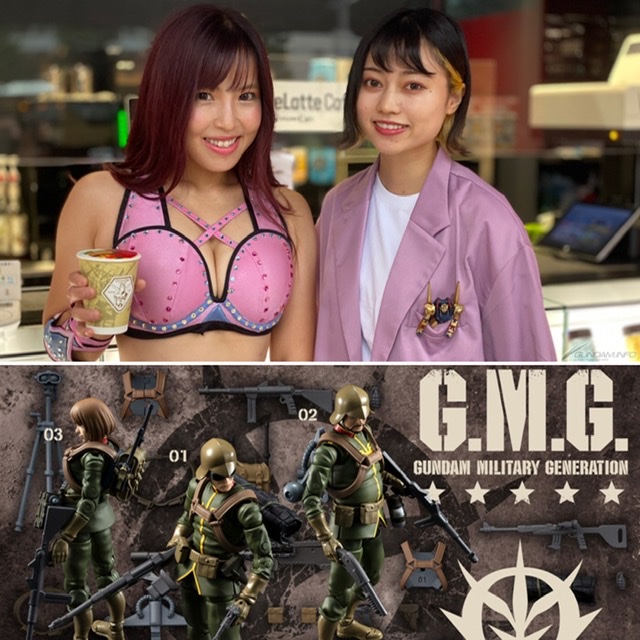 Gundam Cafe TOKYO "Special Program Held on 9/20" Report
At the experience-based entertainment restaurant facility "GUNDAM Cafe TOKYO BRAND CORE (Gundam Cafe TOKYO)", a "special program" was held on September 20th (Sun).
In this "special program", Nozomi Nishiyama will be the MC, Koji Takakura from Mega House, Gen Igarashi from Pinpoint, and Mina Shirakawa as a female professional wrestler who likes Gundam. He talked about various topics, from his favorite Gundam work to the inside story about G.M.G.'s products.
First, Mr. Nishiyama and Mr. Shirakawa appeared. Mr. Shirakawa, who first touched Gundam during the self-restraint period and was addicted to it all at once, talked about his passionate love for Gundam with the Hyakushiki that he painted for the first time and the pink Qubeley presented by his fans.
After Mr. Nishiyama and Mr. Shirakawa excited the venue with Gundam Talk, Mr. Takakura of Mega House who developed "G.M.G. (Gundam Military Generation)" and Mr. Igarashi of pinpoint appeared. He talked about the back side of development and particular points.
Although it bears the name of "Gundam", it is neither a mobile suit nor a character in the work, but the G.M.G. series. Regarding the response after the announcement of commercialization, Mr. Takakura revealed that "I have received both happy and harsh opinions", but among them, "I am supported by users who like military", "I asked you to buy one, such a Gundam I'm glad if you think that there is a way to enjoy it, "he said about the appeal of the GMG series.
Regarding the opportunity for commercialization, "I want to launch a new series to liven up Gundam at the timing of the 40th anniversary" and at the same time "I want to make figures in the middle price range in the figure market where prices tend to be high" It was said that it was. So, he worked on the concept while consulting with brains inside and outside the company.
Mr. Igarashi, who was in charge of modeling, showed an episode that "I laughed unintentionally" when I heard that it was a "general soldier" project at the first meeting with Mr. Takakura. However, after listening to Mr. Takakura's serious presentation, he said that he thought about what was important as a general soldier's figure, and thought about modeling with the point of "moving well and easy to play" as the axis.
Next, I will introduce the particular points of G.M.G. Mr. Takakura said that he used 51 parts in all and devised to realize various poses unique to military figures. It is possible to pose to bend the neck even when lying down, and the range of motion of the shoulder blades and wrists is widened to handle firearms, so it was made with attention to points that are not so important in ordinary figures. I revealed.
Mr. Shirakawa said, "I have more range of motion than I do (laughs)" as an impression of touching G.M.G., and invited laughter at the venue. Also, when he touched the sample before the event, he tried various poses and said with a surprised expression that he was able to reproduce his specialty, "Romero Special".
Finally, the speaker sent a message to the fans.
Mr. Takakura of Mega House said, "Mega House wants to boost the hobby market. We are making various figures including Gundam, so I want people who like it to buy a lot, and I will continue to make a lot of figures. I will go. "
Mr. Igarashi, a pinpointer, said, "I felt that G.M.G. became a good product when I touched the test shot. I will continue to devote myself to making products that everyone can enjoy."
Mr. Shirakawa said, "I've only had a hobby of professional wrestling, so I'm happy to be able to participate in the Gundam event. Today I was able to immerse myself in the world of Gundam at Gundam Cafe TOKYO, and I'm looking forward to Gundam in the future." He said.
Gundam Cafe TOKYO will continue to hold various special programs.