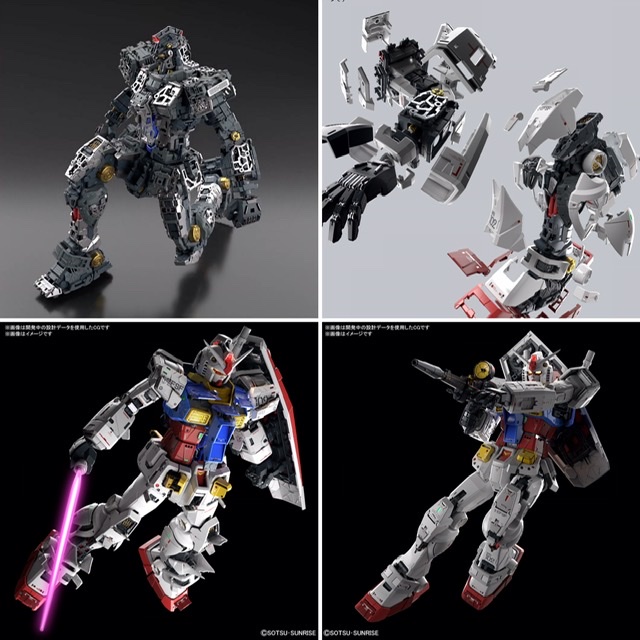 Full official images, description: PERFECT GRADE UNLEASHED 1/60 RX-78-2 Gundam
Description of item
GUNPLA EVOLUTION LINK SYSTEM
adopts a step-by-step assembly process to create a simulated experience of building a real MS.
Designed to allow you to experience the evolution of Gunpla by condensing the latest Gunpla technology in each assembly phase, including "assembly," "movability," "structure," "exterior," and "directing."
Adopts the largest insert frame in the history of Gunpla, with a total length of about 180 mm. It is a specification that the frame of the whole body that becomes the bone can be assembled at the earliest stage in the history of PG.
Movable axes are set at more than 90 locations throughout the body, which is the largest in the history of Gunpla. The fuselage, which uses a core block mechanism, uses a new structure that combines 40 movable axes.
Metallic molding color and plated parts are used for the multi-layer truss frame to create four types of metallic feeling.
Uses a variety of materials such as three types of secondary processing such as silver plating, matte plating, and chrome plating, metal parts, and newly developed etching stickers.
Equipped with the most full-body hatch open gimmick in Gunpla history.
Equipped with a new LED unit that creates an operating scene. A new compact RGB 2-lamp type LED light that enables color tone change and a design that maximizes light guide efficiency make both movable and luminous.
A very small lighting unit is installed in the 1/60 scale beam saber. The beam blade, which pursues the formulation of molding materials, realizes vivid gradation emission as if the beam was actually output from the base.
Pin type lithium battery BR435 (1 for test included) and 2 button batteries [LR41] (sold separately) are required to reproduce the light emission.
accessories
Beam rifle x 1
Beam saber x 2
LED beam saber x 1
Shield x 1
Core fighter x 1
RGB 2-lamp LED x 1
Hand parts (left and right) x 4 types each
Figure x 4 types (Amuro [standing, sitting x 2], Seila [standing])
Metal parts (vernier) x 2
Metal parts (Vulcan) x 2
Saber assembly auxiliary jig x 1
Pin type lithium battery BR435 (for test) x 1
Magnet unit x 1
Metal plate for magnet x 2
Marking sticker x 1
Namer seal x 1
Etching sticker x 1
Metallic 3D sticker x 1
Instruction manual x 1
Price: 27,500 (tax 10% included)
Scheduled to be released at general stores nationwide
* One pin-type lithium battery BR435 (with test) and two button batteries LR41 (sold separately) are required to reproduce the light emission.