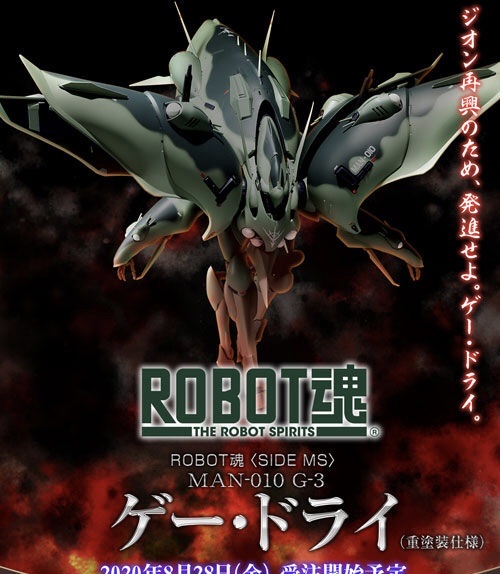 From Friday, August 28, 2020, orders for ROBOT Tamashii MAN-010 G-3 Ge-Drei heavy paint specifications will begin at Tamashii Web Shop.
Orders will be accepted until 23:00 on Sunday, October 25, 2020!
The MAN-010 G-3 [Ge Drei] is a transformable mobile armor that and debuted in the vintage Manga adaptation of Mobile Suit Zeta Gundam and subsequently appeared in the manga series Mobile Suit Gundam: The Revival of Zeon.
ROBOT魂 MAN-010 G-3 Ge-Drei heavy paint specification
Selling price 29,150 yen (tax included)
Earn points 291P
Reservation acceptance end October 25, 2020 23:00
Delivery date Scheduled to be shipped in January 2021
Description of item
the ultimate weapon of the new type special forces "GEIST GRUPPE"
This product, is created under the direct supervision of designer Kazuhisa Kondo.
The ultimate quality that packs modeling, deformation, movement, and coloring at a high level in its overwhelming volume.
"The ghost of Zeon, the time to wake up from a long sleep."
Appearance work
Mobile Suit Z Gundam
Main product contents
Main body
・ Replacement wrist left and right (weapon holder)
・ Beam saber pattern x 4
・ Beam saber blade x 2
・ Landing gear
・ Funnel x 10
・ A set of dedicated pedestals
Main product materials ABS / PVC / die-cast
Product size Overall height: Approximately 190 mm
Left and right width: Approximately 440 mm
Front and back width: Approximately 280 mm
Price: 29,150 yen (tax included, shipping not included)
Release date: Scheduled to be delivered in January 2021