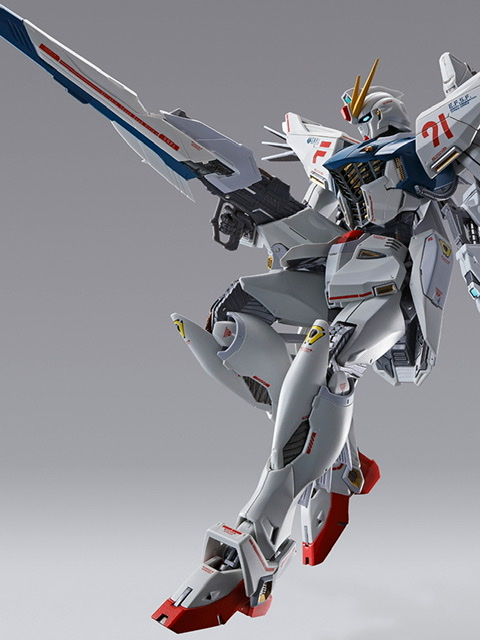 In March 2021, "METAL BUILD Gundam F91 CHRONICLE WHITE Ver." Will be on sale to the general public.
Description of item
30 years since 1991. From "Mobile Suit Gundam F91", whose innovative design fully predicted the arrival of a new generation, the Gundam F91 is newly released with special specifications.
From the 2017 version, the coloring and marking of the main body has been reconstructed based on the matte pearl that is reminiscent of the impression of those days. The shoulder top parts and movable fin structure have also been partially changed to emphasize the elegant silhouette. For the package, a special sleeve using the sketch drawn by mechanic designer Kunio Okawara during the development of METAL BUILD is prepared. It is a definitive product with optional parts that are equipped with MSV.
"METAL BUILD Gundam F91", which adopted a new interpretation of the idea gimmick by mechanic designer Kunio Okawara himself, will be revived with the 30th anniversary specification.
Based on the white of matte pearl, the whole body has been redesigned.
The package comes with a special sleeve. The special sleeve is a luxurious specification using a development sketch by Mr. Kunio Okawara.
The silhouette of the flowing shoulder armor and heat dissipation fins, which is one of the features, has been renewed.
An MSV option set is also included. Both the "Powered Weapon" and "Twin Vesbar", which are variation equipment, incorporate abundant original gimmicks devised by Mr. Kunio Okawara.
Based on the idea of ​​Mr. Kunio Okawara, Vesber added the expansion and contraction of the barrel and the expansion gimmick of the interlocking rear fins. "Variable speed" is more visually transmitted.
In addition to Vesber, beam rifle, beam launcher, beam saber, beam shield are included.
"Face open", which is a feature of the F91, comes with a head that can be reproduced without replacement and a non-deformed head that can be reproduced by replacement.
A form equipped with a powered weapon. The powered weapon has a built-in quadruple beam gatling and missile launcher.
A backpack exclusively for Twin Vesbars equipped with 4 Vesbars. Vesber can move freely and various poses are decided.
METAL BUILD Gundam F91 CHRONICLE WHITE Ver., General release in March 2021. Price: 31,900 yen (tax 10% included)
Product specifications
Overall height: Approximately 170 mm
Material: ABS, PVC, die-cast
Set contents
・ Main body
・ Replacement head
・ Replacement face parts (open state)
・ Replacement wrist left and right 4 types each
・ Vesbar left and right
・ Beam rifle
・ Beam launcher
・ Beam shield
・ Beam generator
・ Beam saber x 2
・ A set of dedicated stands
・ Replacement shoulder armor left and right
・ Powered weapon left and right
・ Twin vesbar set
・ Vesbar joint cap