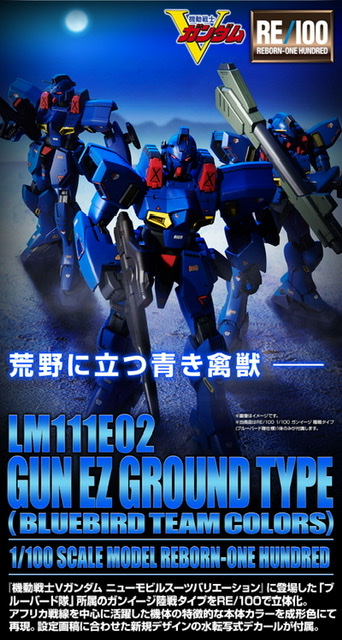 Edit
RE / 100 Gun Ez Ground Type Bluebird Team Colors Shipping in January 2021 Orders will start from 11:00 on November 16, 2020 at the Hobby Online Shop
RE/100 1/100 ガンイージ 陸戦タイプ(ブルーバード隊仕様)
Selling price 3,850 yen (tax included)
Earn points 38P
Reservation acceptance end July 3, 2020 23:00
Delivery date Shipped on July 16, 2020
TheGun Ez Ground Type belonging to the "Blue Bird Corps" that appeared in "Mobile Suit Victory Gundam New Mobile Suit Variations" is goin to be released in the RE / 100 Series
The characteristic body color of the aircraft that was active mainly on the African Campaign is reproduced with molding color. Includes a newly designed water slide decals set.
In addition, stickers are used on the shoulder ducts, knees, and cameras in various places to reproduce the details in different colors.
Comes with various weapons of Gun Ez
A variety of weapons are attached, and various poses can be reproduced.
Attached armament: Beam Rifle / Beam Saber / Beam Bazooka / Beam Shield