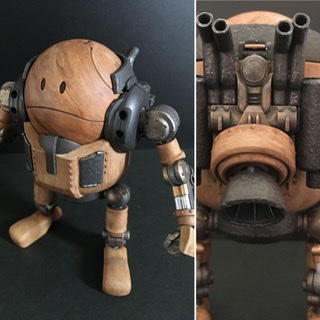 Amazing Mobile Haro made of Wood Grain: images and full work description
From the Modeler:
For the joints, apply the gray of the Acrysion base color once, then apply the Tamiya color metal gray or gold copper, and especially for the copper, apply the paint so that it is tapped with a blur brush.
I tried painting separately this time without using masking tape
Initially, the Haro part was painted with iron
Mobile Haro, who challenged wood grain painting for the first time about two years ago, borrowed his head and repainted it.
When I put them side by side, I feel progress
How to paint wood grain! I think there are many ways to do it, but in my case …
(1) Undercoat with yellow, which is the base color of Acrysion (in the direction of wood grain)
(2) Paint with Tamiya color deck tongue (also in the direction of wood grain) * You may skip this procedure! I feel that the more uneven it is, the later the taste will come out.
③ Dilute the weathering color stain brown to the desired density, and use a firm brush to make it look like wood grain! Surprisingly suitable and ok
④ After that, I rub it with a cotton swab to blend it in, or accent it with a dark weathering color (ground brown, etc.).
Work by 天下泰平左衛門
aka: zack_hammer on Twitter