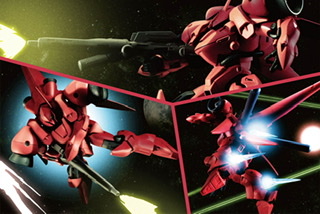 ROBOT Spirits AGX-04 Gerbera Tetra ver. A.N.I.M.E. new official images, release date, description
Product details
Includes a Sturm booster that is as tall as the MS itself. By the replacement, a more voluminous silhouette appears.
The unique form that stands out even in the main story and the coloring are faithfully reproduced.
A glamorous body line composed of curved lines such as a large vernier on the shoulder.
The equipment comes with a beam machine gun, and beam effect parts that reproduce high power can be attached.
A Sturm booster can be attached to the back. In addition, the propellant tank can be attached and detached.
Vernier effect parts can be attached to the shoulders and legs as well as the Sturm booster.
A powerful battle scene can be reproduced by linking with "ROBOT Spirits Effect Parts Set 2 ver. A.N.I.M.E." (sold separately) scheduled to be released to the general public in June 2021.
Product specifications
Overall height: Approximately 130mm
Material: PVC, ABS
Set contents
・ Main body
・ Sturm booster
・ Propellant tank x 2
・ Beam machine gun
・ Beam saber unit x 2
・ Replacement wrist left and right 4 types each
・ Wrist storage deck
・ Various effects
Price: 8,250 yen (tax 10% included)
Release date: July 2021