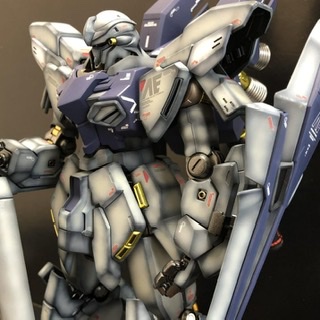 Gradation painted, some metal parts: MG Sinanju Stein ver.ka images and info
From the Modeler:
Sinanju Stein is completed. This is the first finished product in 2021. Since the surface is clear, I applied a strong gradation to the image of a rugged stein (raw stone). As usual, I painted it with a metallic and matte contrast in mind.
From the front right diagonal. All the attached decals were attached according to the settings. This was sober, but I was convinced that the degree of perfection would increase dramatically as the amount of information increased.
head on. Since the mold part was monotonous, I masked it instead of inking it and added a red accent to make it an accent. His masking was difficult, but I think it was a good accent.
From the bottom of the front. The twin eyes were clear parts, but after painting the red candy, I painted the enamel black with an airbrush. Only the twin eye part was wiped with a solvent to expose it. It's hard to see from the front, but it looks good when fanned from below and I like this angle unbearably.
Backpack. It is a masterpiece of powerful backpack, vernier. Since the inside of his vernier is separated into separate parts, the color changes depending on the angle using polarized paint. The booster is originally white, but I changed it to black to give it a profound feeling.
From the front. I used 3 types of gradation. Based on the neutral grays 3 and 4 launched in black, the white to be placed on top is changed. There were quite a lot of parts and it was difficult, but I was able to paint it to my satisfaction.
The small parts were painted with a brush. The power pipe at the neck and the pipe underneath were also painted with Star Bright Gold and Leaf Gold. I think it was good to take the time to become the part
Metal parts are on the knee joint and muzzle.
In order to make the best use of the gradation, I also added a dry brush, but I put it in chrome silver in the part that seems to be movable or rubbed to the extent that it really feels a little.
It's a kit with a lot of parts and decals, but I think it's a very complete kit. I feel that satisfaction is irresistible once it's completed. I made it with a strong gradation and a little arrangement, but I am very satisfied. But I don't see many examples of this kit, so I wonder if it's not popular
Work by: ピロリ
I'm a beginner who recently started Gunpla. There is almost no modification, only painting and detail up of metal parts.