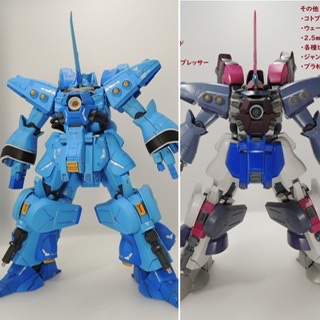 Mixing build HGUC 1/144 Geymalk Sleeve spec : full wip, images, info
From the Modeler:
1/144 "Geymalk (with sleeves)" was completed with a mixing build that uses a combination of multiple MS parts. The coloring is changed from orange to blue as i like.
Because it is a collection of large MS parts, it has a strong appearance and a massive body shape. Since the moving parts of the original kit are used as they are, each joint moves smoothly and various poses are possible.
I carefully observed the design drawings of Geymalk and combined parts with similar shapes with almost no processing. In this mixing build, work with plastic boards and putty is eliminated as much as possible.
This is a shot looking down from above. "Sleeve" engraving tightens the work.
It is a shot from the side. I paid attention to the balance at the time of installation so that large parts would not interfere with each other.
It is a shot of the temporarily assembled state before painting. MSs such as Silver Bullet, Rozen Zulu, Zequain, Efreet Schneid, Silver Bullet Suppressor, and Mobile Worker are the main sources of parts.
By combining large parts according to the site, gaps and spaces are inevitably created, so I filled them with junk parts and plastic materials. The chest mega particle cannon is processed from Rozen Zulu shield.
This is a shot of the back unit and both arms before painting. You can see that it is used almost without processing.
The legs are centered on the legs of Silver Bullet, and parts from other kits are attached. Considering the strength after completion, brass wire with a diameter of 1 mm is used to connect each part, and it is fixed with epoxy adhesive after shafting.
Work by: あやぽん
aka: Ayapons45 on Twitter