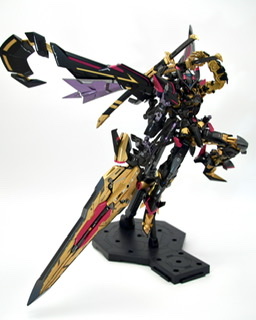 Mixing build: MG Gundam Astray Gold Frame Amatsu Sumeragi. Info work and images
gunjap: I think that "smeragi" is a wrong word, cause Sumeragi (皇, lit. "emperor") is a Japanese surname indicating relation to the Imperial House. So I have edited the Modeler' title.
From the Modeler:
I've always wanted MG Amatsu Mina, but I couldn't get a kit and I couldn't buy a metal build, so I finally made it with virtual MG specifications. Since it's a big deal, mixing is also a little plus.
The series armament was installed in a striker pack type.
Action pose.
The back operates flexibly using the MG testament and the wing base of Freedom.
Considered to withstand the unfolding weight.
MS commentary
A plan that has been partially refurbished from Ten Mina.
Tactical Arms
diverted and installed as an orb product.
Japanese sword type actual sword for MS was also equipped with rare metal refining / casting as special equipment.
The conventional equipment can now be flexibly handled in all directions, further specializing in medium to close combat.
On the other hand, since the weight of the MS is increasing, it is basically assumed to be in space combat.
Black = G Ultimate Black
Gold = G Star Bright Gold, Pearl Gold
Red = F Jaguar Purple
Purple = C metallic purple + G frame metallic Ⅰ
The right arm is brought from MG Blitz.
The middle period when it has settled down.
Streaks and details are gradually added.
Work by: あおな
aka: Aona_Maxwell (Twitter account)