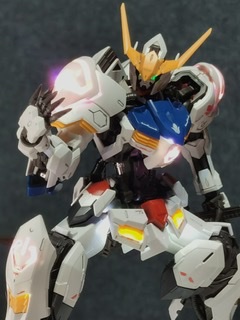 MG 1/100 LED unit for Barbatos Normal version / with mini speaker by kosmos: images, info
kosmos
MG 1/100 LED unit for Barbatos
Released in 2 variations, the normal version and the version with mini speakers.
When purchasing the version with mini speakers,
TF memory card and card reader must be purchased separately.
There are two types of power supply, rechargeable battery power supply and TYPE-C power supply (5V, 1-2A)
If you follow the instruction manual, you can install it easily.
The LED light emitting unit has little effect on the joint movable range and can take various perspectives.
The space on the back of the shoulders and knees is small, so when installing the LED unit, it is necessary to scrape the back of the original plastic model parts.
Since the LED light emission effect is strong, the parts can be seen through,
It can be improved to some extent by adjusting the LED emission intensity.