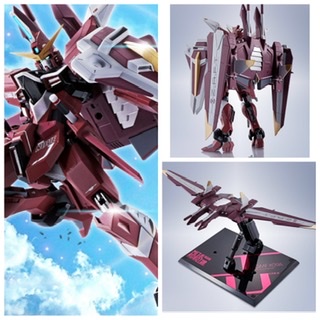 METAL ROBOT Spirits Justice Gundam, Tamashii Web Shop will start accepting orders from 16:00 on May 21, 2021. Many images, full info
Description of item
Justice Gundam appears in the METAL ROBOT Spirits Series
Proportions and movement that thoroughly reproduce the image in the play. A frame using die-cast parts and an exterior that makes full use of various coloring expressions.
A luxurious specification with face parts, Bassel beam boomerang, and connected Lacerta beam saber pattern added by new modeling.
In addition, the flight unit "Fatum 00" also incorporates a new modeling and new mechanism, allowing the wing to expand its range of motion and the vernier cover to be deployed.
Main product contents ・ Main body
・ Replacement wrist left and right 3 types each
・ Fatum-00
・ Beam rifle
・ Shield
・ Backpack expansion parts
・ Beam saber pattern for connection
・ Beam saber blade x2
・ Beam boomerang x2
・ A set of dedicated pedestals
Main product materials ABS / PVC / die-cast
Product size Overall height: Approximately 140 mm
Selling price: 14,300 yen (tax included)
Delivery date: Scheduled to be shipped in October 2021
METAL ROBOT魂 <SIDE MS> ジャスティスガンダム
Selling price 14,300 yen (tax included)
Earn points 143P
Reservation acceptance starts May 21, 2021 16:00
Delivery date Scheduled to be shipped in October 2021