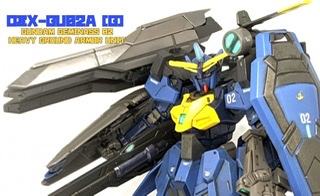 Painted Build P-Bandai HGAC Gundam Geminass 02 Ground Heavy Equipment Unit set: images, info
This is a work in which the HG Gundam Geminass 02 released at Premium Bandai is equipped with a dedicated ground heavy equipment unit.
The MS that I was looking forward to being released after seeing the original illustration. It is a little slimmer than the illustration due to the addition of arrangements, but I felt that the atmosphere of heavy armor was firmly out.
Since each part was finely shaped, I applied the paint and attached the decals.
Even with heavy armor, there seems to be no problem with the movement of each part.
The specially armed beam cannon and integrated missile launcher can be moved as they are because they can be moved by ball joints.
Since the shield and beam rifle attached to the main body of Geminass are also left over, I tried to fully equip it because it is a good idea.
Personally, I am very happy to finally get Geminass 02, a heavy-duty ground warfare unit that is paired with Geminass 01, which specializes in air combat.
I would like to expect that the LO booster will be released as it is.
Work by マルミコアロ
VanillaHop803 on Twitter