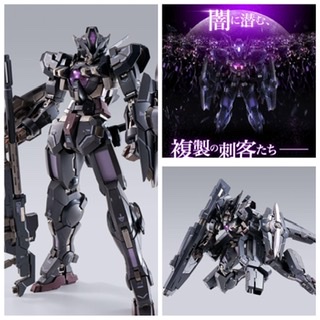 Premium Bandai Metal Build Gundam Astraea Type-X Finsternis: full official images, release date and full info
Orders for "METAL BUILD Gundam Astrea TYPE-X Finsternis" will begin at 21:00 on July 28, 2021 at Premium Bandai's Tamashii Web Shop.
Description of item
Gundam Astrea TYPE-X Finsternis is now available in METAL BUILD.
A jet-black mysterious MS is newly designed by mechanic designer Kanetake Ebikawa.
A jet-black masked royal mask is attached to the head, and in addition to equipment such as a GN sharp shooter and GN shield, various weapons of Gundam Astrea TYPE-F (sold separately, orders are closed) are included.
Furthermore, a new project of Mobile Suit Gundam 00 x METAL BUILD has started!
Appearance work Mobile Suit Gundam 00
Main product contents ・ Main body
・ Replacement wrist left and right 4 types each
・ Armed latch for lumbar replacement x 2
・ Proto GN sword left and right
・ GN beam saber x 2
・ GN beam dagger blade x 2
・ GN hand missile
・ NGN Bazooka
・ GN launcher
・ GN beam rifle
・ GN hammer
・ GN beam pistol x 2
・ GN shield x 2
・ A set of joints for GN shield
・ GN Sharpshooter
・ Various joints for GN sharp shooter
・ Replacement bipod for GN Sharpshooter
・ GN shield x 2
・ Replacement head
・ Replacement rear skirt
・ A set of dedicated pedestals
Main product materials ABS / PVC / die-cast
Product size Overall height: Approximately 180 mm
Selling price: 24,200 yen (tax included)
Delivery date: Scheduled to be shipped in December 2021