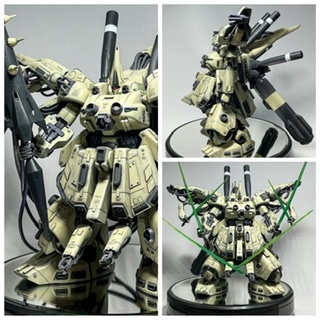 Mixing Build HGUC The-O AL: many images, full info and credits
This is HG The O, which I formed almost 20 years ago.
In reworking i applied a rough technique to mix the old kit α-Azieru (1/550).
With reference to Makoto Kobayashi's version of NEOGEO, i have created the concept of creating my own monster-like large mobile weapon.
Fusion of "o" and "α". "God's will" and "sanctuary" become "all" and become one.
This time, I will introduce the whole work first.
It was my first attempt at mixing, so it was a battle from the point of summarizing the whole image.
However, there is no reason to have a large-scale work skill, so I tried to combine it with the image of adding Azieru parts to a large character, keeping the basics as the O.
An unreasonable structure in which Alpha shoulder armor is layered on the rugged shoulders of The O. The seam is camouflaged by piping using 100% wire.
Azieru thin arms are just right for the sub arm, and I was able to realize my dream of six arms.
Since the connection shaft of the front skirt is loose and easy to wobble, it is stabilized by sandwiching the waist parts of Azieru between them.
From the back. Sturm thrusters and head cover are transplanted to the back. Since the center of gravity is low, it is possible to become independent.
Streak carving, plastic board, detail up parts for rugged decoration. Since there are many gaps in the kit this time, I tried to use piping a lot. In fact, if the cables are exposed like this, as long as there is no risk of being hit …
About painting.
The exterior is painted with ivory in search of a mysterious image like a god statue in plain colors as a huge weapon.
In addition, I used to use Tamiya's enamel black for inking and stains, but I was afraid to use enamel because of the age of the kit, so I used Creos's weathering color for the first time to finish it with a wash.
About armament.
Prototype funnel pod lance. A striking weapon that mounts nine funnels. It is equipped with a small generator and propulsion system as well as a platform, and is a kind of mother funnel that can be remotely controlled by ejecting the entire spear body.
Inspired by the lance bit that appeared a little in the build series, I diverted the surplus lance.
A little production process.
It was more than 10 years ago that I assembled it, and the plastic model itself has deteriorated considerably, and I had a hard time with the dowels crushing and the squeezing parts adhering.
I replaced it with the remaining parts and repaired it with putty while carefully repairing it.
Where the mixing has somehow taken shape. I've been warming up my ideas for a long time, but this year I'm finally confident that I can realize them.
Then finally decided pose. This is the only beam sword six sword style I wanted to try.
Work by @TAT013 on Twitter