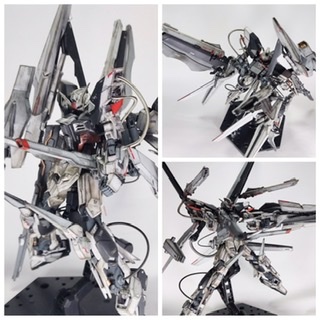 Mixing Build HGBD/HGCE Strike Freedom Gundam Knight Knocker: many images, info and credits
It is the last finished product in 2021.
This is my own machine made by mixing HG Delta Kai and HG Love Phantom.
I have a "piping and weathering" finish that is my favorite style.
Almost all of the painting is done with water-based hobby color including the white part.
Although the body is a love phantom, it is possible to operate multiple firearms thanks to the Hyper Dutorion engine of Strike Freedom and the multi-lock-on.
Back shot part 1.
I like the noir striker that sticks out at the top and the protofin funnel that spreads out in a V shape.
The connection part uses Battle Arm Arms.
Back shot part 2. From a little above.
From this time, I tried to use a red wire. It's pretty good. I want to use this a lot in the future. Especially the combination with black wire and spring seems to be good.
Back shot part 3.
The sensor part that normally uses the sticker is painted in green bamboo color. It's my favorite color, but it's difficult to use and it's hard to come into play.
The prototype fin funnel is deployed. The shield and rifle are separable.
Production process # 1.
I combined the Love Phantom that was previously painted with the Gundam marker and the Delta Kai that was placed in the unassembled.
I was worried that it would be an act that did not happen in the past, but since it was a fertilizer for chests of drawers, I took the plunge and decided to remodel it.
It is the stage where the rough painting is finished. I'm doing my best to paint the legs.
For the first time, I am trying to improve the details with insect pins. I got about 1400 pieces and got a round mold and brass wire for a lifetime.
Wanting an impressive weapon, I combined Delta Kai's Long Mega Buster with a shield to create a huge rifle.
Snipe mode for long-range sniper use. It's normal. If you shoot from the other side, you can only see the shield.
The piping material mainly uses springs of wave and HQ parts.
I also put about 100 decals on it, but I don't understand at all. Weathering is difficult to adjust because other details are obscured
So it was a Gundam Night Knocker.
According to the literature, it is an "nuisance visitor". I'm talking about where to go because it's for base defense. I gave priority to the feeling of words.
Weathering Master I don't like to paint too much, but I really like the piping and metal parts.
Work by ムシバミ
@undermine_rm on Twitter